Some content on this page has been sourced from and/or is being used on another Wikia website: Happy Days Wiki.
The Mork & Mindy/Laverne & Shirley/Fonz Hour

Opening title screen

Animated cartoon series

Sitcom

Directed by:

George Gordon
Bob Hathcock
John Kimball
Rudy Larriva
Carl Urbano
Rudy Zamora

Starring:

Voices of:

Ralph James
Stan Jones
Ron Pallilo
Lynne Marie Stewart
Frank Welker
Shavar Ross
Mark L. Taylor

Country / Launguage

USA / English

Network:

ABC-TV

Seasons/Episodes

26 / 1 season

Original Network Run:

September 25, 1982 - September 3, 1983

Production Companies:

Hanna-Barbera
Ruby-Spears Enterprises
Paramount Television
The Mork & Mindy/Laverne & Shirley/Fonz Hour is an animated series which aired on ABC following the cancellation of the live-action series. The show included 26 fifteen-minute installments of "Mork & Mindy" and 8 thirty-minute installments of "Laverne & Shirley with the Fonz," a variation of the previous season's "Laverne & Shirley in the Army."
Robin Williams, Pam Dawber, Conrad Janis and Ralph James each reprised their roles, while Eugene was voiced by Shavar Ross.
Premise
[
]
Ignoring the established events in the live-action show, Mork and Mindy are high-school aged when Orson sends Mork to Earth, where he's instructed to attend school to learn about about Earth life, and he rents an attic room from Fred McConnell and his daughter, Mindy.
Mork
[
]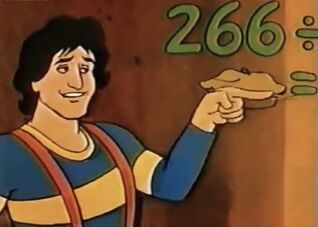 Barrel chested and powerfully built, Mork retains his suspenders though they are solid red, and normally wears a single striped sweater rather than his multicolored tops or orange/black top. His finger is even more multi functional than in the show itself, with a new range of powers ascribed to it along with his ability to drink from it, and those already seen in the show.
Along for the ride is Doing (pronounced Doyng), an Orkan pure bred Hibijonee, a kind of Orkan "dog" with an eye on his tail, a pair of antennas on his head, six legs with suction-cup feet, and a three-segmented 'Pom-Pom' style body that can separate. He has also brought his Grimbel Pizatti with him from Ork, the car that Mork says he drives in the Season 1 episode Mork's Seduction. Like the Orkan cars seen in the 4th Season Episode The Honeymoon, it is Egg Shaped but fast, with a variety of functions that make it very useful.
Mork attends Mt. Mount High School with Mindy, his 'unique' behavior meaning Mork is frequently at odds with Mr. Caruthers, the school principal, and a few other teachers. He depends on Mindy's advice to keep him on the straight and narrow, and like the show, is entirely devoted to her, not appreciating Hamilton's horning in on her, and going to bat for her affections (To Ork or Not To Ork) and right to date her (The Invisible Mork).
To that end Mork's chief nemesis is the blond, classically good looking, but rich, snob Hamilton J. DuPont XXV. Hamilton is an entitled jerk like his powerful father, who has been after Mindy for years (according to his sidekick Chip) and is seriously put out that he's lost her to Mork (a source of annoyance to others in the school too), and is determined to undermine Mork in Mindy's eyes, and prove to everyone else that Mork's not human.
Oher than Mindy, outside of school, Mork frequently pals around with his younger buddy Eugene.
Mindy
[
]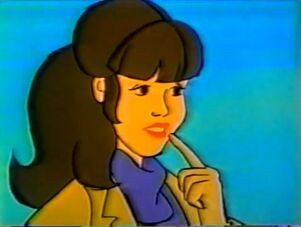 When not dressed up for occasions, Mindy sports her classic turtleneck and jacket look from the show. Apart from going to school, at Mt. Mount., she often works in her father's Music Store in the evening and weekends when not hanging out with Mork.
She is studious yet popular and still shows the journalistic intentions she has on the main show, by serving as a reporter for the School Paper, intending to head to College to do the same. Her search for new stories, occasionally leads them both into adventures.
Hamilton's constant attentions bore and irritate her. She has taken to and fallen for Mork, and is ostensibly dating him, with Mork's 'Shiksa Queen' (and variations thereof) replaced by the endearment 'Little Mama' and my Main/Favorite Earthling/Female.
As in the main show, she defends Mork from her father's suspicions and short temper and lack of patience with him (and Doing), and tries to keep Mork from using his powers/revealing himself to others.
Episodes
[
]
Information about old Saturday morning cartoons has a tendency to be sparse and inaccurate. Taking into consideration that there were two episodes per half hour, the list below is based on other online guides, which may not accurately reflect the order in which they originally aired. This list does not include the "Laverne & Shirley with the Fonz" segments.
| ep.# | Title | Original airdate |
| --- | --- | --- |
| 1 | Who's Minding the Brat? | September 25, 1982 |
| 2 | The Greatest Shmo on Earth | September 25, 1982 |
| 3 | To Ork or Not to Ork | October 2, 1982 |
| 4 | Orkin Without a Cause | October 2, 1982 |
| 5 | Mork Man vs. Ork Man | October 9, 1982 |
| 6 | Which Witch Is the Witch | October 9, 1982 |
| 7 | Every Doing Has His Day | October 16, 1982 |
| 8 | Beauty or the Beast | October 16, 1982 |
| 9 | Morkel and Hyde | October 23, 1982 |
| 10 | The Wimp | October 23, 1982 |
| 11 | Ride 'em Morkboy | October 30, 1982 |
| 12 | Meet Mork's Mom | October 30, 1982 |
| 13 | Muddle in a Huddle | November 6, 1982 |
| 14 | The Incredible Shrinking Mork | November 6, 1982 |
| 15 | The Invisible Mork | November 13, 1982 |
| 16 | The Fluke Spook | November 13, 1982 |
| 17 | Mayhem for the Mayor | November 20, 1982 |
| 18 | Coo Coo Caveboy | November 20, 1982 |
| 19 | A Treasure Ain't No Pleasure | November 27, 1982 |
| 20 | The Mork with the Midas Touch | November 27, 1982 |
| 21 | Extra-Terrestial Toddler | December 4, 1982 |
| 22 | Time Slipper Slip-Up | December 4, 1982 |
| 23 | Super Mork | December 11, 1982 |
| 24 | Mork, P.I. | December 11, 1982 |
| 25 | Monkey on My Back-Pack | December 18, 1982 |
| 26 | On Your Mork, Get Set, Go | December 18, 1982 |
Credits and Bumpers
[
]
In addition to the opening credits sequence, there were bumpers leading into commercials, often featuring both the Mork & Mindy characters and the Laverne and Shirley with The Fonz characters, sometimes interacting with each other. These were peculiar as Mork & Mindy took place in the present, while Fonzie looked as he did in 1957, which by association implied Laverne and Shirley did as well. Of course time travel is a fairly well-established thing in both the live action and animated universes, so who knows.
Cast
[
]
As was standard for cartoons of the era, only one set of end credits was created citing the cast and crew for the entire season, making it nearly impossible to discern who actually worked on each individual episode.
Main Cast
[
]
Additional Voices
[
]
Dennis Alwood
Jack Angel
Dave Coulier
Julie McWhirter Dees
Alan Dinehart
Walker Edmiston
Stan Freberg
Bob Holt
Katherine Leigh
Kenneth Mars
Allan Melvin
Sidney Miller
Neil Ross
Michael Rye
Steve Schatzberg
Marilyn Schreffler
Steve Spears
Larry Storch
Alan Young
Laverne & Shirley with The Fonz
[
]
This segment of the show was actually season 2 of Laverne and Shirley in the Army, inspired by the hit film Private Benjamin and featuring a talking pig named Sgt. Squealy (voiced by Ron Palillo, better known as Horshack from Welcome Back Kotter) as Laverne & Shirley's commanding officer. Fonzie and his pet dog, Mr. Cool, were transplanted from their cartoon The Fonz and the Happy Days Gang, with Fonzie working as a mechanic on the military base.
Eight 30-minute episodes were produced. Since Cindy Williams left the sitcom around the same time, there seems to be some rampant speculative misinformation in cyberspace that the show was cut short because of her exit. Henry Winkler reprised his part but neither Cindy Williams nor Penny Marshall were involved in this incarnation of the show. In that era, it was standard in Saturday morning television to create a full 13-episode season one year (as they did with Mork & Mindy) and a shorter second season to be fleshed out with first-season reruns. After the 8 new Laverne & Shirley cartoons aired, the previous season's reruns were paired with the remainder of the Mork & Mindy episodes.
Cast:
Penny Marshall - Laverne De Fazio
Cindy Williams - Shirley Feeney
Kenneth Mars - Sgt. Turnbuckle
Ron Palillo - Sgt. Squealy
Henry Winkler - Arthur "Fonzie" Fonzarelli
Frank Welker - Mr. Cool
Also see: Animated Series