Robin McLaurin Williams (July 21, 1951 – August 11, 2014) starred as Mork in two episodes of Happy Days and took the role into the highly popular spin-off Mork & Mindy, which ran for 4 seasons from 1978-1982, and won him the Golden Globe for Best Actor in a TV Series (Musical or Comedy) in 1979.
Robin McLaurin Williams was born on Saturday, July 21st, 1951, in Chicago, Illinois, a great-great-grandson of Mississippi Governor and Senator, Anselm J. McLaurin. His mother, Laurie McLaurin (née Janin), was a former model from Mississippi, and his father, Robert Fitzgerald Williams, was a Ford Motor Company executive from Indiana. Williams had English, German, French, Welsh, Irish, and Scottish ancestry. Due to both his parents having previous marriages, he had two elder half-brothers: a paternal half-brother Robert (also known as Todd) and maternal half-brother McLaurin, however, due to the circumstances of said previous marriages, Robin effectively grew up an only child, only really getting to know his brothers as he got older. [1]

Williams attended public elementary school in Lake Forest at Gorton Elementary School and middle school at Deer Path Junior High School. Due to growing up in quite isolated circumstances, he described himself as a quiet child who, spent a deal of time entertaining himself, which began him on the road to exercising his imagination. In late 1963, when Williams was 12, his father was transferred to Detroit. The family moving into a 40-room farmhouse on 20 acres in suburban Bloomfield Hills, Michigan, where he was a student at the private Detroit Country Day School. Ironically just some fifteen minutes drive from his future Mork & Mindy co-star Pam Dawber's school.
He excelled in school, where he was on the school's wrestling team and was elected class president. He did not overcome his shyness until he became involved with his high school drama department, and discovered his propensity for comedy when during a school review he was able to do 'dead on' impressions of a couple of his teachers. After High School he briefly studied political science at Claremont Men's College and had his first taste of Improv in the classes there, as it was the only place where girls attended, and found that format sparked with him.
But comedy was not what he was aiming for, wanting to be an actor. Studying theater at the College of Marin for a couple of years before landing a full scholarship to New York's famed Juilliard School to continue his focus on theater [2]. Once there, he and fellow freshman, and future Superman, Christopher Reeve were the only two of their class accepted into the Advanced Class under the guidance of theatrical great, John Houseman dubbing Williams and Christopher Reeve,, 'foot soldiers of the theatre' telling them they were required to carry the banner of acting, Reeve as the handsome leading man, Williams as "the character actor"[2] Reeve would become William's lifelong friend, making a pact that if either became successful they would help the other out. Trained in everything from Shakespeare to Mime, having performed on stage and street theatre, he left Juilliard during his junior year in 1976 at the suggestion of Houseman, who said there was nothing more Juilliard could teach him.
Having worked as a bus boy in Sausalito in the San Francisco Bay area during the summers he was in Julliard, Williams headed back to California hoping to kickstart his career, and began his stand up career in the clubs in San Francisco, make waves in improv groups and comedy clubs, with his never before seen style and incredible energy, and getting his first taste of drug culture at that time. Moving to Los Angeles with the aim of breaking into Hollywood, things did not go as smoothly as hoped, however. While he worked at The Comedy Store, rubbing shoulders with comedy greats like Richard Pryor, he joined improve groups like The Harvey Lembeck Comedy Workshop[3], working with people like John Ritter and Jim Staahl to hone his craft. His luck in more mainstream media was not as readily forthcoming, with a small part in an R rated sexually suggestive skit based movie Can I Do It 'Till I Need Glasses? (1977) stints on two short lived shows, "The Richard Pryor Show". (1977) and the re-boot of "Laugh In" (1977-78).
Getting discouraged, and recently married to first wife Valerie Velardi, he began contemplating a move back to San Francisco, but a recommendation by Harvey Lembeck,[4] and a street performance he had been doing to help pay the bills, a turn as an alien within it, caught the attention of Ronny Hallin. Hallin, an actress, producer and sister of Garry and Penny Marshall, had been dispatched by brother Garry, who was desperately seeking with a limited time frame, an actor to play an Alien that Richie Cunningham, the lead character in the huge hit Happy Days was to encounter (supposedly in a dream) in a rapidly approaching episode. With other actors either turning down the role or dropping out, Williams was brought in to audition privately for Garry Marshall, and after (among other things) sitting on his face in Marshall's office, found himself on the Happy Days set rehearsing the part of Mork from Ork, sent to 1950s Earth to bring back a specimen for his fellow Orkans to examine. The rehearsal on the Paramount Lot caused a sensation, with word getting around the lot, and executives reportedly turning up to watch this new comedian tear up the set, and as Henry Winkler recalled 'astonishing' the established members of the sitcom with the sheer inventiveness and exuberance of his comedy and mind.[2]
The night of the taping of My Favorite Orkan, reportedly saw the first ever standing ovation from a studio audience for a guest star on a sitcom, and the airing of the episode brought a similar response, with a record amount of fan mail for a single guest appearance on any show ever, arriving in for Williams. ABC who aired both Happy Days and Marshall's other show Laverne & Shirley, wanted Williams tied down as quickly as possible to a show and on the air for the 78-79 season. What followed to get the show on the air is testimony to how much ABC wanted Williams, the inventiveness and instinct of Marshall, Marcy Carsey & Tom Werner, and pure serendipity. As a cobbled together 'pilot' made up of spliced together footage from two entirely unrelated shows, starring Williams and Pam Dawber, an almost unknown actress, who had never met each other, the assertion that 'these two people need to work together', in a plot that consisted of 'Alien lives with Girlfriend', in a 'nice romantic relationship', and a conversation about an alliterative girl's name to create a hastily invented Series Title, managed to get greenlit as "Mork & Mindy" for the new season, with Pam Dawber none the wiser till the announcement in Variety. [5] [6] [7].
Williams did not meet Pam Dawber till they travelled to film the opening titles and do publicity shots, bamboozling her into thinking he was Russian on their first encounter. Whatever instinct Marshall, Marcy Carsey & Tom Werner had in regards to picking Pam Dawber was immediately proved correct. The two newcomers hit it off massively, both off and on screen. Dawber proving the perfect foil to the unbridled comic genius, who was pretty much allowed carte blanche, with many ideas for episodes directly drawn from his stand up act. Despite having no improv background, she quickly adapted to his energy, attempts (and general ability) to make her laugh, and ad-libbing, keeping up with him to get them through the script (Williams calling her 'his rock), while their romantic chemistry was evident from the outset. William's incredible power packed performance, their on screen pairing and some top notch writing, resulting in the show picking up the 1979 People's Choice Favorite New TV Program, Williams the Favorite Male Performer in a new Television Program, and Pam Dawber the 1979 People's Choice Favorite Female Performer In A New Television Program. Williams also picking up the Golden Globe for Best Actor in a TV Comedy Series.
Beyond the ratings and critical success however, Robin Williams' personal fame went stratospheric in a way rarely seen before, going from relative obscurity to being mobbed wherever he went. Howard Storm recalling a time when, the casts and crew of the three shows Garry Marshall produced were involved in a softball game against each other. As part of the Mork & Mindy team, Robin ran out to cover left field, and Storm remembers everyone watching in the bleachers getting up as one and moving out to left field after him, leaving the game announcer having to ask the crowd to stay off the field and away from him. His fame was a phenomena, which saw him making the kind of money he had never dreamed of, and skyrocketing him into the lifestyle of an A list star, with the demands on his time ratcheting up in kind. 70s LA, and certainly 70s Hollywood, were a high (or low) point for sex, drugs and rock and roll, and Williams was pulled head on into two of them. Storm recalling that by the time the 2nd season arrived, Robin was doing drugs[1].
Beyond that, however, were the changes to the show and Williams caviling at continuing to play Mork as an out and out innocent after having spent a year on Earth. Correctly pointing out that Mork wasn't supposed to be stupid, and keeping him unaware of certain prominent things (most notably sex) just made him appear that way. The writers/producers however also had a point, in that it was Mork's relative naivety alongside William's incredible energy that made him so appealing to viewers, and that having Mork constantly wisecracking on political and pop culture points or making dirty jokes (ala Williams stand up) didn't work alongside Mork discovering/investigating some new facet of life on Earth. He also began to refuse to say some of his most famous Orkan phrases, Storm having to struggle with him to remind him Mork was an Alien and that at the very least when he was alone with Mindy he *would* resort to his native language, the same way an Italian immigrant might when at home. [8]
When the ratings slid badly due to the disastrous scheduling choice and re-casting of the show...followed by ABC's 'jiggle' interference with the stunt castings of Raquel Welch and the Denver Bronco Cheerleading Squad...and everyone pulled together to 'reboot' Mork back at least closer to his first season incarnation. In the meantime however, Williams had gone to Malta to take the title role in the musical version of Popeye, under director Robert Altman, who had directed Pam Dawber in her first feature The Wedding. The experience proved an elaborate, expansive and expensive 'fiasco', which while it didn't bomb at the office, by William's own admission brought him down to earth on what it would take to be a 'movie star'. Clashes with Robert Altman, who didn't appreciate Williams' ad-libbing skills the way his Mork & Mindy crew did, and protracted problems surrounding production and budget, led to him calling the Popeye set 'Stalag Altman'. The topic also became a running gag for Robin in the show, poking fun at the film repeatedly all through Season 3 and 4.
After his first starring film role in Popeye with Shelley Duvall (1980), he starred (or co-starred) in widely acclaimed films, including The World According to Garp with John Lithgow (1982), Good Morning, Vietnam (1987), Dead Poets Society (1989), Awakenings with Robert DeNiro, directed by his Happy Days co-star Penny Marshall (1990), The Fisher King (1991), Aladdin (1992), Good Will Hunting (1997), and One Hour Photo (2002), as well as such financial successes as Hook (1991), Mrs. Doubtfire (1993), Jumanji (1995), The Birdcage (1996), Night at the Museum (2006), and World's Greatest Dad (2009).
3 times nominated for the Academy Award for Best Actor in a Leading role, Williams won the 1997 Academy Award for Best Supporting Actor for his performance as teacher Sean Maguire in Good Will Hunting.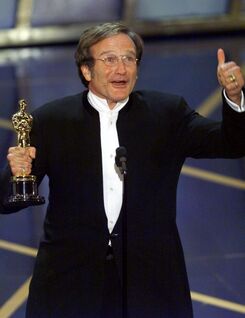 1997
Winner

Oscar

Best Actor in a Supporting Role

Good Will Hunting (1997)

1992
Nominee

Oscar

Best Actor in a Leading Role

The Fisher King (1991)

1990
Nominee

Oscar

Best Actor in a Leading Role

Dead Poets Society (1989)

1988
Nominee

Oscar

Best Actor in a Leading Role

Good Morning, Vietnam (1987)
He received the Golden Globe in 1978 for Best Actor in a Comedy Television Series for playing Mork, the first of his 4 Golden Globe Awards, and 2 Special Golden Globe Awards (one for his vocal work on Aladdin) and the Cecil B. DeMille Golden Globe for outstanding contributions to the world of entertainment.
2005
Winner
Cecil B. DeMille Award
1999
Nominee
Golden Globe
Best Performance by an Actor in a Motion Picture - Comedy or Musical
Patch Adams (1998)
1998
Nominee
Golden Globe
Best Performance by an Actor in a Supporting Role in a Motion Picture
Good Will Hunting (1997)
1994
Winner
Golden Globe
Best Performance by an Actor in a Motion Picture - Comedy or Musical
Mrs. Doubtfire (1993)
1993
Winner
Special Award

Aladdin (1992)
For his vocal work.
1992
Winner
Golden Globe
Best Performance by an Actor in a Motion Picture - Comedy or Musical
The Fisher King (1991)
1991
Nominee
Golden Globe
Best Performance by an Actor in a Motion Picture - Drama
Awakenings (1990)
1990
Nominee
Golden Globe
Best Performance by an Actor in a Motion Picture - Drama
Dead Poets Society (1989)
1988
Winner
Golden Globe
Best Performance by an Actor in a Motion Picture - Comedy or Musical
Good Morning, Vietnam (1987)
1985
Nominee
Golden Globe
Best Performance by an Actor in a Motion Picture - Comedy or Musical
Moscow on the Hudson (1984)
1980
Nominee
Golden Globe
Best Actor in a Television Series - Comedy or Musical
Mork & Mindy (1978)
1979
Winner
Golden Globe
Best Actor in a Television Series - Comedy or Musical
Mork & Mindy (1978)
He received the first of his Eight Emmy nominations in 1979 for Mork and Mindy, going on over the course of his career to, win two Emmy Awards,
2010
Nominee
Primetime Emmy
Outstanding Variety, Music or Comedy Special
Robin Williams: Weapons of Self Destruction (2009)

Shared with:
David Steinberg (executive producer)
Marty Callner (produced by)
Randall Gladstein (producer)
Mason Steinberg (producer)

2008
Nominee
Primetime Emmy
Outstanding Guest Actor in a Drama Series
Law & Order: Special Victims Unit (1999)

For playing "Merritt Rook". For episode: "Authority".

2003
Nominee
Primetime Emmy
Outstanding Individual Performance in a Variety or Music Program
Robin Williams Live on Broadway (2002)


Outstanding Writing for a Variety, Music or Comedy Program
Robin Williams Live on Broadway (2002)

1996
Nominee
Primetime Emmy
Outstanding Individual Performance in a Variety or Music Program
Comic Relief VII (1995)

Shared with:
Whoopi Goldberg
Billy Crystal
For hosting the show.

1994
Nominee
Primetime Emmy
Outstanding Guest Actor in a Drama Series
Homicide: Life on the Street (1993)
For playing "Robert Ellison". For episode "Bop Gun".
1988
Winner
Primetime Emmy
Outstanding Individual Performance in a Variety or Music Program
ABC Presents: A Royal Gala (1988)
1987
Winner
Primetime Emmy
Outstanding Individual Performance in a Variety or Music Program
Carol, Carl, Whoopi and Robin (1987)
1979
Nominee
Primetime Emmy
Outstanding Lead Actor in a Comedy Series
Mork & Mindy (1978)
For playing: "Mork".
He also won two Screen Actors Guild (SAG) Awards, and four Grammy Awards throughout his career.

In 2013, after a break of 31 years he returned to Prime Time Television and the sitcom format to star opposite Sarah Michelle Gellar as his daughter, in the CBS comedy The Crazy Ones. He played Simon Roberts, an executive at the Chicago advertising agency Lewis, Roberts, and Roberts, who worked with his tightly wound daughter and protégée, Sydney, played by Sarah Michelle Gellar. The character of Simon was, by Williams own admission not dissimilar to himself in terms of life experience having lived hard, married multiple times and attended rehab, with Gellar taking the role of his tightly wound daughter, playing straight man, much as Pam Dawber had previously. In 2014, some 32 years on from the end of Mork & Mindy, after Robin Williams had publicly announced announcing her as his 'Dream Guest Star' he was reunited on-screen with Pam Dawber, who came out of acting retirement solely to work with him again. Casting her as Lily a free spirited, fast living author, the show paired them romantically (from their opening shot) as his love interest, with a view to her becoming a recurring guest star.
Unfortunately after a strong start to the show, it slid in the ratings, with even David E. Kelley it's creator citing poor scripts as the major reason. The format of the single camera show, without an audience was also considered wrong for Williams who had always thrived on immediate feedback.
Having been struggling in secret for sometime with his health, and mis-diagnosed with Parkinson's Disease, on August 11, 2014, Williams tragically committed suicide by hanging at his home in Paradise Cay, California. An autopsy revealed that rather than Parkinson's his struggle had been with Lewy body dementia [9] a movement disorder that progresses to include dementia and mood and behavioral changes.
The death of Robin Williams was instant global news. The entertainment world, friends, and fans responded to his death through social and other media outlets.[10]
His wife, Susan Schneider, said: "I lost my husband and my best friend, while the world lost one of its most beloved artists and beautiful human beings. I am utterly heartbroken."[11]
His daughter, actress Zelda Williams responded to his death by stating that the "world is forever a little darker, less colorful and less full of laughter in his absence".[12] U.S. President Barack Obama said of Williams: "He was one of a kind. He arrived in our lives as an alien – but he ended up touching every element of the human spirit."[13][14]
His Mork & Mindy co-star, Pam Dawber, who had remained friends with him long past their co-starring days, their reunion on TV in the The Crazy Ones, having occurred just months before stated, "I am completely and totally devastated. What more can be said?" [15]
Broadway Theaters in New York City dimmed their lights for one minute in his honor.[16] Broadway's Aladdin cast honored Williams by having the audience join them in a sing-along of "Friend Like Me", an Oscar-nominated song originally sung by Williams in the 1992 film.
Fans of Williams created makeshift memorials at his star on the Hollywood Walk of Fame[17] and at 'Mork & Mindy's House', 1619 Pine Street, in Boulder, [18] as well as at locations from his film career, such as the bench in Boston's Public Garden featured in Good Will Hunting; the Pacific Heights, San Francisco, home used in Mrs. Doubtfire;[19]
Shortly after his death, Disney Channel, Disney XD, and Disney Junior all aired the original Aladdin commercial-free over the course of a week, with a dedicated drawing of the genie at the end of each airing before the credits.[20]
On social media in August 2014, many fans paid tribute to Williams with photo and video reenactments of Dead Poets Society's "O Captain! My Captain!" scene.[21]
On television, during the 66th Primetime Emmy Awards ceremony on August 25, 2014, Billy Crystal presented a tribute to Williams, referring to him as "the brightest star in our comedy galaxy". [22]
On September 9, 2014, PBS aired a one-hour special - "Pioneers of Television" - Robin Williams Remembered devoted to his career featuring extensive input from Pam Dawber, Penny Marshall, Whoopi Goldberg, Louie Anderson, Paul Rodriguez, Jimmy Walker, Pauly Shore and many others,[23] [2] and on September 27, 2014, dozens of leading stars and celebrities held a tribute in San Francisco to celebrate his life and career.[24]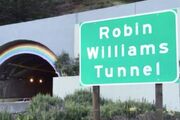 In addition, the Waldo tunnel on Highway 101 north of the Golden Gate Bridge in San Francisco was chosen to be renamed in honor of Robin Williams. It was chosen in part because of the rainbow arches over the entrances which were a natural reminder of Mork's suspenders, and it was officially named the "Robin Williams Tunnel" on February 29, 2016.[25]
In November 2016, in the wake of Garry Marshall's death, Pam Dawber represented both herself and Robin (wearing a Mork style striped sweater) in the tribute episode of The Odd Couple "Taffy Days"
A book biography that was reportedly in development at the time of his death, to be written by New York Times writer David Itzkoff.[26] came to fruition in 2018, with the publication of Robin
Also in 2018, HBO aired a critically acclaimed documentary Robin Williams: Come Inside My Mind looking back on his life, achievements and death, with input from his family, new footage and audio recordings, and personal insights from, among many, Valerie Velardi, Eric Idle, Billy Crystal and Pam Dawber and emotional tributes from same. In September of the same year, Sharon Park in Golden Gate Park, San Francisco, was renamed Robin Williams Meadow.[27]
In 2020, Pam Dawber, paid tribute to both Garry Marshall and Robin in ABC's tribute The Happy Days of Garry Marshall, and Robin's third wife and widow, produced her own documentary on the Amazon platform, Robin's Wish, giving a closer insight into his final days and shining a light on the insidious disease that took him.
Mork & Mindy: Behind the Scenes
[
edit
|
edit source
]
"I remember a network man saying he didn't know what (the show) was. Then they just said, 'Oh, screw it. We'll put it on.' " [28] "It struck a chord, because it was so out of left field. But it was a blast!" "The first year they're basically taking stuff from my stand up act and throwing it in," to the plots. "and having me learn about humans every week." [2]
On meeting her for the first time on the promo trail, Robin recalled that the "Wonderful news is she's really sweet and really funny in her own right, and I could just go off the wall and do strange things." [2] "Working with Pam was a gift because she could hold the center, and I could fly off like an electron. It gave it a believability that, without it, I don't think it could have survived."[28] "It was just me playing and having fun, and having Pam standing there and holding the middle, explaining things and being patient. And occasionally we'd have a warm and fuzzy moment of like...Oh! That's Love!" [2] "She's just wonderful, she made my life amazing. On that show, she was my rock, she's the one that kept it together, crazy as I was, she grounded it and gave it such heart and love, she was just amazing. And I was on everything but skates at that time."
"He would take all his clothes off, he would be standing there totally naked and she was trying to act. His aim in life was to make Pam Dawber blush," Garry Marshall, Creator and Executive producer said. [29]
"Somehow he had that magic," Pam Dawber recalled, "If you put it on paper you would be appalled. But somehow he had this guileless little thing that he would do -- those sparkly eyes. He'd look at you, really playful, like a puppy, all of a sudden. And then he'd grab your t*ts and then run away. And somehow he could get away with it. It was the Seventies, after all." Howard Storm also recalled it as a frequent occurrences, either trying to get a laugh from her, or just because he was bored. "He'd be doing a paragraph and in the middle of it he would just turn and grab Pam's ass, or grab a breast. And we'd start again. I'd say, 'Robin, there's nothing in the script that says you grab Pam's ass.' And he'd say: 'Oh, OK.'" [30]
"We would try different things, just to see what could get in under the radar." ABC, figuring that Williams was up to something went ahead and hired someone who spoke multiple languages to watch each episode and try to catch him out. According to Williams, he distinctly remembered trying to slip one joke past this new censor by yelling obscenities in Yiddish only to be tapped on the shoulder and informed that the new censor understood exactly what he was saying, to which Williams responded "Really? How sad".
↑

Don Goodman- "Way Out" TV Guide, October 28 (1978).

↑ The terrorist inside my husband's brain

(English)

Neurology pp. 1308–1311 (September 27, 2016). . . .
↑ Derschowitz, Jessica. "Robin Williams tributes pour in from Hollywood", CBS News, August 12, 2014. Retrieved on October 29, 2014.

 

↑ "Beloved Comic, Actor Robin Williams Dead at 63", NBC, August 12, 2014. Retrieved on October 29, 2014.

 

↑ Robin Williams' Family: 'The World is Forever a Little Darker' (August 12, 2014). Retrieved on August 12, 2014. . .
↑ Alman, Ashley. "Obama Responds To Robin Williams' Death: 'He Was One Of A Kind'", Huffington Post, August 11, 2014. Retrieved on October 29, 2014.

 

↑ "Barack Obama Calls Actor Robin Williams 'One of a Kind'", NBC News. Retrieved on August 17, 2014.

 

↑ Broadway lights dim for Robin Williams. Retrieved on June 18, 2017.
↑ "Fans mourn Robin Williams at Hollywood Walk of Fame star, autopsy pending", August 12, 2014. Retrieved on August 16, 2014.

 

↑ Bacle, Ariana. "Fans remember Robin Williams at 'Mork and Mindy' house", Entertainment Weekly, August 12, 2014. Retrieved on August 15, 2014.

 

↑ Rocha, Veronica. "Robin Williams memorial grows outside 'Mrs. Doubtfire' house", August 13, 2014. Retrieved on August 16, 2014.

 

↑ Disney Networks to Air 'Aladdin' in Honor of Robin Williams, Hollywood Reporter, Aug. 14, 2014
↑ '#O Captain, My Captain': Robin Williams' fans take over social media with tributes and memorials dedicated to the legendary comic. Retrieved on 2014-11-15.
↑ Sacks, Ethan. "Emmys 2014: Robin Williams given emotional tribute by good friend Billy Crystal", August 25, 2014. Retrieved on August 26, 2014.

 

↑ "Robin Williams Tribute Special to Air on PBS", Variety, Sept. 2, 2014
↑ "Robin Williams' Life Celebrated at San Francisco Tribute Attended by Family, Industry Friends", Hollywood Reporter, Sept. 27, 2014
↑ Robin Williams tunnel officially gets new signs. sfgate.com. Retrieved on January 2, 2017.
↑ "Robin Williams Bio in the Works", Hollywood Reporter, Aug. 27, 2014
Community content is available under
CC-BY-SA
unless otherwise noted.