Pam Dawber (born October 18, 1951 in Farmington Hills, Michigan) starred as Mindy McConnell 1978 to 1982, in the ABC sitcom Mork & Mindy, which ran for 4 seasons from 1978-1982, winning a 1979 People's Choice Award for the role, and picking up a second for her titular role in the CBS sitcom My Sister Sam in 1987.
Pam Dawber grew up in a suburb of Detroit. Her father, Gene, was a commercial artist and her mother, Thelma, ran a stock photography agency. [1][2]
She went to Reid Elementary School in Goodrich and attended North Farmington High School and Oakland Community College (OCC), with the intention of transferring to a four-year college [3] Always a pretty girl, Dawber did some modeling in Detroit, while attending Oakland Community College, and worked as a model and singer in several auto trade shows. Her career began to take off when a friend who was going to New York suggested that Dawber accompany her and bring along her modeling portfolio to show various New York modeling agents.
Modelling and Move Into Acting
[
edit
|
edit source
]
Wilhelmina Models, one of the top modeling agencies in New York signed Dawber to an exclusive contract, and she was soon featured in magazine advertisements but Dawber was more interested in acting than in modeling. She began studying voice and acting, honing a 4 octave singing range,[4] and began appearing on TV commercials including those for Fotomat, Neet and Underalls
However, a devastating series of family tragedies knocked her off course in her mid-20s, with 7 family members dying within a 3 year period, including her younger sister. A tremendous blow. A time of great personal upheaval naturally affected her professional life "I got so tense with modeling and acting that I quit. I went to art school. But I got very depressed and confused. I finally returned to acting." [5] [6]
A leading role in a stock production of the Jerome Kern/Oscar Hammerstien musical comedy "Sweet Adeline" at the Goodspeed Opera House in East Haddam, Connecticut, led to her being screen tested for the title role in Tabitha, a 1977-1978 situation comedy, about Tabitha Stephens the witch daughter of Samantha & Darren Stephens spun off from Bewitched. To her disappointment, Dawber did not get the part, the role instead going to Lisa Hartman. However, she did land a featured 'introducing' role in the Robert Altman film A Wedding (1978), which boasted a vast cast of established and soon to be famous faces, playing Tracy Farrell a bitchy, rich, horsey-set (doing her own riding) ex of the groom . Between the two, ABC-TV was favorably enough impressed with her to enroll her in its "talent development" program, which paid its participants until they could find appropriate roles.
During this time, under the auspices of Marcy Carsey & Tom Werner, she did a pilot for Sister Terri (released as a short) about a modern, straight shooting young nun, a former gang member herself, who worked with inner city kids. To no one's surprise (and Dawber's relief) it was not picked up for development into a series.[7] But it was from seeing her in this, Carsey & Werner's recommendation, and noticing her in person on the Paramount commissary on the lot, that Garry K. Marshall recruited her from the development program, to work with the newly discovered Robin Williams fresh off his seismic appearance on Happy Days. Based off his feeling and Carsey/Werner's suggestion that she would play well as 'an Earthling [opposite William's Mork], and they would have some kind of nice, romantic relationship' [8] . They sent footage of her in Sister Terri spliced with Williams as Mork in his Happy Days appearance, in lieu of a pilot, and the show was green lit, after a conference call with Carsey/Werner in LA, Marshall in the Caribbean and ABC heads in NY. Without a script, plot, auditions or the two leads even having met, never mind whether they would work well together.
Pam Dawber famously discovered that she was cast in the show when her agent rang her while she was back in New York in her cabin in the Catskills, and read her the announcement of a new show 'Mork & Mindy' starring Robin Williams and Pam Dawber, 'Alien lives with Girlfriend in apartment'. However, despite her only meeting Williams for the first time on the publicity shoot/trip to Boulder, Colorado to do the exterior shots for the show's credits, Marshall's (and Carsey/Werner's) instincts proved absolutely correct. The two hit it off hugely, both personally and professionally, and their on screen chemistry was evident from the outset. The show fueled by William's super energized comedy, it's fantastical mayhem anchored by Dawber's realism, charm and ability to both play off and reel in Williams. The unforeseen stratospheric success of the show, and their pairing together, saw the show pick up the 1979 People's Choice Favorite New TV Program, Williams the Favorite Male Performer in a new Television Program, and she the 1979 People's Choice Favorite Female Performer In A New Television Program. Unfortunately it's huge success also drew the attention of the Network whose meddling in the format, casting and scheduling was to prove the show's ultimate undoing.
During the show's hiatus periods she would do popular TV Movies such as The Girl, The Gold Watch & Everything (ironically a sequel was ordered which she did not return for, though her character did, which featured her Mork & Mindy co-stars Morgan Fairchild and Tom Poston), and she lent her voice to Swan Lake, one of the earliest and most popular pieces of anime to hit American shores. She also indulged her enjoyment, and notable talent, for singing both on television on Perry Como's Springtime Special (1979) and on stage, appeared in a revival of the musical "My Fair Lady", playing Eliza Doolittle, with the Kenley Players, Kenley Theatre, OH, 1980, and scoring a major hit as Mabel in the Pirates of Penzance (1981) in both L.A. at the Ahmanson Theatre [9], and the Minskoff Theatre in New York. The latter a fulfillment of a long held dream to see her name in lights on Broadway, and followed up by a performance at the Tony Awards [10] with both Rex Smith and the legendary Robert Preston. In February 1982, she also appeared as a bitchy Southern Belle in the Twilight Theatre, segment 'Johnny Comes Marching Home' a Carl Reiner hosted, inspired piece of lunacy, alongside Steve Martin, George Peppard and Michael York where in a Play House Minus One affair, you the viewer got to 'act' with them on screen..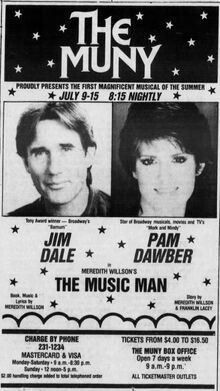 When Mork & Mindy ended in 1982, much like when finding out about getting the job, she was not informed of the show's ending either, and confessed to being angry at both that and the fact that neither ABC or Paramount would pick up the show for a 5th season, as 5th season syndication deals would've put them into profit alone.
After the show ended, CBS offered her a deal to develop her own show for them. Naively, she said, she thought. she'd 'take a year off, see what happens, and then develop a show.' [11]
She continued to voice Mindy with Robin Williams in cartoon form for a time, while pursuing a combination of acting and singing roles, appearing as Kirk Douglas's daughter in Remembrance of Love, and as Laurie opposite John Schneider's Curly in an Oklahoma Medley on Texaco Star Theatre (1982) both on NBC. Continuing in TV Movies like Last of the Great Survivors opposite James Naughton, she would also play Marian (the Librarian) opposite Tony Award winning (and funnyman) Jim Dale in The Music Man at The Muny, or the Municipal Opera Association of St. Louis, Missouri, then touring in Indianapolis, IN, and Dallas, TX., in 1984.
Further TV work included Wild Horses with Kenny Rogers and western greats like Ben Johnson and Richard Farnsworth. In general her stage work outstripped her TV work, but other appearances came in episodic shows like Faerie Tale Theatre, and...after so many mentions of Mindy's life being like an episode of the Rod Serling show...she made an actual appearance in the 80s version of the Twilight Zone, in the fun alternate universe themed, 'But Can She Type?' (1985)
In 1986 she starred in American Geisha a well regarded take on the novel based on a true story about an American PhD student and only foreigner ever allowed to go through Geisha training. However, after this she would return again to the sitcom format.
Her year off from the CBS development deal had been added to by two more trying to find the right idea, in the mean time she and Manager Mimi Weber developed other shows under her Production Company - Pony Productions, at Paramount, Fox and Columbia, one of which went to Laverne & Shirley alum, Cindy Williams, the others never produced.[12] For a new set up for her personally however, she recalled that after 2 and a half years "after hearing 150 script ideas, we hadn't found a show. I was everywhere with some sort of development deal, and scripts would come in. but we couldn't find the right one. Finally, the My Sister Sam idea clicked and we got it together." [11]
From 1986 to 1988, she once again had the title role in a television series, playing Samantha Russell, a professional photographer living and working out of a studio apartment in San Francisco, in the CBS sitcom My Sister Sam. With Pam Dawber as the lead, it co-starred the up and coming, highly talented, young Rebecca Schaeffer as her little sister, and David Naughton (the brother of James her Last of the Great Survivors co-star). The cast rounded out by excellent comedic character actors, Jenny O'Hara & Joel Brooks were tight, and the chemistry was good, especially between the two 'sisters'.
The series quickly found it's feet with viewers, providing a second sitcom success for Pam Dawber, and during the filming of the episode 'Making Up is Hard to Do' in Season 1, with the knowledge of Director, Ellen Falcon, and crew there was something of a surprise set up for Pam Dawber, with an unexpected invader on the set making a beeline for her, to add a little old time chaos. The series was a ratings hit in its first season, and popular with the viewers proving Pam Dawber's lasting popularity with the viewing public as she once again picked up the People's Choice Award for Favorite Female Performer in a New TV Program, for 1987.
In addition, as one of the (relatively few) women heading up their own sitcom at the time, Pam appeared alongside Beatrice Arthur (Golden Girls) and Valerie Harper (Valerie) to pay a musical tribute to the trailblazing (and oft referenced in Mork & Mindy) comedic great, Lucille Ball at the 1986 Kennedy Center Honors.
However, according to Executive Producer Diane English the show was plagued with creative issues and an unhappy writers room,[13] and in something of a case of deja vu with what happened to Mork & MIndy in it's second season, My Sister Sam suffered a massive ratings drop in its second year outing after the Network decided to move the show from its regular slot to Saturday night. My Sister Sam was cancelled in April 1988, with half of the second season's episodes never shown on CBS, but eventually broadcast (along with all previous episodes) on the USA Network.
In July 1989, over a year after the show's cancellation, Schaeffer was shot and killed by Robert John Bardo, a man who had stalked her for three years, in front of her apartment in Los Angeles. Pam Dawber had formed a close bond with Rebecca Schaeffer, the two even living together for a while till Schaeffer found her feet in L.A. was left devastated by her former co-star's death. [14] [15] Pam and her other surviving My Sister Sam co-stars, Joel Brooks, David Naughton and Jenny O'Hara, all participated in a filmed public service announcement about violence prevention, and Dawber herself became a gun control advocate.
Pam Dawber met actor Mark Harmon through her continued friendship with Gina Hecht from Mork and Mindy, with whom he was also a friend. They became engaged, and married on March 21, 1987, in a private ceremony. They have two sons: Sean Thomas Harmon (born April 25, 1988), also an actor, and Ty Christian Harmon (born June 25, 1992). With the birth of her second child, she largely retired from the entertainment industry for family reasons, acting sporadically during the 1990s by choice rather than any need to pursue a career. Her work in the 90s included the cult favourite Stay Tuned, with fellow 70s/80s comedy ABC star and friend of Robin Williams, John Ritter, and the short lived sitcom Life...and Stuff with another stand up comedian Rick Reynolds. She also hit the stage again in 'She Loves Me' playing the lead role of Amalia in the Musical version of the play 'Parfumerie' (Best known as The Shop Around the Corner or the later 'You've Got Mail')opposite fellow Sister Sam alum Jenny O'Hara (playing Ilona) and Salvage 1/Silver Spoons star Joel Higgins at the Orange County Playhouse (Jan 1990) [16] several productions of 'Love Letter's' opposite Mark Harmon through the mid and late 90s, and the drama ''The Water Children' with the Matrix Theatre (1998).[11]
Pam's onscreen appearances in the 2000s were, having effectively retired from acting, limited to interviews and documentaries, but in 2014, after Robin Williams had returned to sitcom work on television, he declared her his 'dream guest star'. And to the delight of long term Mork & Mindy fans, some 32 years after they last appeared together, it was announced that she would be joining him in a guest spot on his CBS comedy series The Crazy Ones. In it she played Lily, a world travelling, free spirited (free loving) author, who is a new client of William's character, Simon. Both are immediately, and flagrantly, smitten with each other, only for bad timing with his family to take a hand in quelling the romance before it can properly take off, leaving him chasing after her at the end. Williams' apparently had great difficulty in playing the scenes where he had to be cool towards her character, as 'it was Pam'.
The chemistry was unchanged. But if, as rumored, the idea was to have her character become a recurring love interest, then placing her appearance in the second to last episode of the season, as a method to lift ratings was ill judged as Network decisions are normally made by then, and the show was cancelled. Proving a further blow for Williams, who's health was already suffering badly, but in secret, from undiagnosed Lewy body disease by this time, and died later that year. Pam Dawber, could discern there was something wrong when with him, as he was clearly not his old self, and he spoke to her of his undergoing tests, and being 'freaked out' by sudden inexplicable weight loss. When he died just a few months later she, was left, in her own words, devastated by his death [17] [18] [19] and over the next few years made notable and deeply touching contributions to tributes and documentaries about him, including PBS's Robin Williams Remembered (2014) and HBO's Robin Williams: Come Inside My Mind (2018)
Garry Marshall & The Odd Couple
[
edit
|
edit source
]
Garry K. Marshall, the film-and-television comedy writer-producer-director who, as noted above, had made possible her professional acting breakthrough, died in 2016. In that year, she made a guest appearance on the reboot of the The Odd Couple in a tribute episode 'Taffy Days' to Marshall. Playing a bar owner named 'Arnette' (in probable call back to Arnolds) she wore a pink version of Robin/Mork's orange striped shirt, appearing alongside with other such Marshall alumni as Ron Howard, Garry's sister Penny Marshall, Cindy Williams, Anson Williams, Don Most and Marion Ross. She also paid tribute to both Marshall and Robin Williams in ABC's The Happy Days of Garry Marshall (2020)
Pam has been publicly outspoken about the need for a national gun-control policy. She served as National Spokesperson for the Big Brothers and Big Sisters of America for 10 years.  Simultaneously she served the local BBBS Los Angeles chapter as a Gala producer and fundraiser for 20 years, and has supported numerous philanthropic charities.  Currently her main focus is lending support to the mission of Village for Vets, a philanthropic group that fills critical gaps in key services for homeless and at-risk veterans in greater Los Angeles, serving as the organization's Vice President and board member.
On the 17th March 2021 it was announced that Pam would return to TV. In the short term at least. Taking a 4 episode recurring role in CBS's long running hit procedural, NCIS, opposite husband Mark Harmon, after many (many!) years of fans of the show wondering if she would make an appearance. In it she plays Marcie Warren an experienced investigative journalist who pursues Gibbs for the real story from him personally, after incidents within his department, both at odds (character wise) with and working alongside him, and was confirmed by her not to be a romantic interest, but also not necessarily over as regards to future appearances. Her appearances began with the episode 'Gut Punch' on April 6th 2021, episode 11 of the 18th season of the show. [20] [21]
Michael York presents Pam Dawber with the award for "Favorite Female Performer In A New Television Program" for her role as Mindy McConnell in Mork & Mindy, at the 5th Annual People's Choice Awards, 1979.
People's Choice Awards, USA
1987
Winner

People's Choice Award

Favorite Female Performer in a New TV Program

1979
Winner

People's Choice Award

Favorite Female Performer in a New TV Program

TV Land Awards
2007
Nominee

TV Land Award

The "Who Knew They Could Sing?" Award

| Year | Title | Role | Notes |
| --- | --- | --- | --- |
| 1978 | Sister Terri | Terri | 1 episode |
| 1978–1982 | Mork & Mindy | Mindy McConnell | 94 episodes |
| 1982 | Mork & Mindy/Laverne & Shirley/Fonz Hour | Mindy McConnell (voice) | 14 episodes |
| 1982 | Twilight Theatre | Missy Pelton | 1 segment 'Johnny Comes Marching Home' |
| 1985 | The Twilight Zone | Karen Billings | 1 episode: "But Can She Type?" segment |
| 1986–1988 | My Sister Sam | Samantha "Sam" Russell | 44 episodes |
| 1987 | Faerie Tale Theatre | Pearl | 1 episode: "The Little Mermaid" |
| 1988 | Rosie | Shelby Woods | Episode: "Shelby By The Moon" |
| 1994 | Dream On | Cheryl Castorini | 1 episode: "From Here to Paternity" |
| 1996 | Adventures from the Book of Virtues | Liese (voice) | 1 episode: "Self-Discipline" |
| 1997 | Life... and Stuff | Ronnie Boswell | 5 episodes |
| 1997–1998 | 101 Dalmatians: The Series | Perdy (voice) | 20 episodes |
| 2014 | The Crazy Ones | Lily Shekter | 1 episode: "Love Sucks" |
| 2016 | The Odd Couple | Arnette | 1 episode: "Taffy Days" |
| 2021 | NCIS | Marcie Warren | 'Gut Punch'; |
| Year | Title | Role | Notes |
| --- | --- | --- | --- |
| 1978 | A Wedding | Tracy Farrell | Feature film |
| 1980 | The Girl, the Gold Watch & Everything | Bonny Lee Beaumont | Television film |
| 1981 | Swan Lake | Princess Odette (voice) | Feature film |
| 1982 | Remembrance of Love | Marcy Rabin | Television film |
| 1983 | Through Naked Eyes | Anne Walsh | Television film |
| 1984 | Last of the Great Survivors | Laura Matthews | Television film |
| 1985 | This Wife for Hire | Marsha Harper | Television film |
| 1985 | Wild Horses | Daryl Reese | Television film |
| 1986 | American Geisha | Gillian Burke | Television film |
| 1988 | Quiet Victory: The Charlie Wedemeyer Story | Lucy Wedemeyer | Television film |
| 1989 | Do You Know the Muffin Man? | Kendra Dollison | Television film |
| 1990 | The Face of Fear | Connie Weaver | Television film |
| 1992 | Stay Tuned | Helen Knable | Feature film |
| 1993 | The Man with Three Wives | Robyn | Television film |
| 1994 | Web of Deception | Ellen Benesch | Television film |
| 1994 | A Child's Cry for Help | Monica Shaw | Television film |
| 1995 | Trail of Tears | Cheryl Harris | Television film |
| 1996 | A Stranger to Love | Andie | Television film |
| 1999 | Don't Look Behind You | Liz Corrigan | Television film |
| 1999 | I'll Remember April | Barbara Cooper | Feature film |
| 2006 | Christa McAuliffe: Reach for the Stars | Herself | Documentary film |
| 2014 | Robin Williams Remembered - Pioneers of TV | Herself | TV Documentary Film |
| 2019 | Your Biggest Fan - 20/20 | Herself | TV Documentary Film |
| 2018 | Robin Williams: Come Inside My Mind | Herself | Documentary |
| 2020 | The Happy Days of Garry Marshall | Herself | TV Special/Documentary |
Mork & Mindy: Behind The Scenes
[
edit
|
edit source
]
An absolutely central part of what made the show work, grounded the lunacy in human terms, and made Mork as appealing a character as he was, was his relationship with Mindy, played by Pam Dawber. Even allowing for William's vast comedic gifts, it is doubtful in the extreme (despite what the occasional Long Island critic might have opined at the time) that the show would have worked with anyone else opposite Williams. And most certainly the central conceit of the show, the relationship between the two main characters would not have been as appealing, had it not been for the strength, talent, charisma and instincts of Pam Dawber, as asserted by other cast members, the producers, writers and directors.
So said legendary comic and character actor, and fellow cast member Tom Poston, who played Mr. Bickley. "She made Mork & Mindy, about Mork and Mindy. Any other 'human' would've been lost in the shuffle, he [Robin] would've just mowed 'em down. But she's so strong, and, so sweet and adorable by the way, that she was determined to keep the show Mork and Mindy. And she did. Genius."[22]
An opinion echoed by Jay Thomas who played Remo DaVinci, who recalled as a comic, trying to go head to head with Williams in the early days of Season 2, and getting 'blown away', noting in an interview with Pam that she was the only one who could take him on.
"I know that the beauty of [the] show was Pam Dawber. Pam to me was the Foundation. She was the power." says Howard Storm, who directed 59 episodes in the show's first three seasons. "[23] "Pam Dawber is really the cement of [the] show. They couldn't have done better than casting her as Mindy. She's like Bud Abbott. Everybody thinks Lou Costello is great, but if there's no Bud Abbott to set him up, you've got a problem. She's calm and cool and she waits him out'
"Pam Dawber, as far as I'm concerned, never, ever got her due. She never got the respect, or the understanding of how important she was to that show.," he says "Which is terribly unfair."
"Pam has a great comic sense and is the perfect foil for Robin. She's instinctively good. She really understands her role...and I can't imagine anyone being as solid as she is." [24] To Storm, Dawber's ability to provide react to and ground Williams' flights was vital— "It was very difficult for her because she never knew where he was going so I thought she was amazing." and so was her patience "Because she was able to wait Robin out, when he went on some kind of 'tantrum', and do his thing." He recalled, "Robin goes on the rampage and starts do eight minutes of something that has nothing to do with the show. Pam just waits." "She would just wait it out, and when she found enough room to get in there, she'd feed him the next line." and "they'd get back on track"
"And to me, she was the life of the show. I mean without her, Robin had no one to work off of." says Storm..[25]
And they worked off each other perfectly. Their chemistry was instant, obvious and the one unflagging constant throughout the show, Pam Dawber recalling, "I really loved Robin and Robin really loved me. We just clicked." [26] How they came to work together something of an iconic Hollywood casting story that says much for serendipity and the insights and instincts of creator and producer Garry Marshall. As mentioned, she had been signed to ABC's 'Talent School' from which they drew many of their actors for their shows. Writer/Producer Brian Levant recalls "What they did was, they took clips from that episode of Happy Days." that the character of Mork had premiered in "And they did a split-screen with an [unproduced] pilot that Bob Brunner, the producer of Happy Days, had done called Sister Terri," that she had starred in as a straight shooting reformed NY gang member who had become a nun..
Garry Marshall had seen her in the pilot for Sister Terri and though he thought the premise was a non-runner, he liked her performance and energy in it. He had also seen her in the Paramount commissary and was struck again by her naturalness. When being grilled about who the Mindy would be to William's Mork, by studio head Michael Eisner, it was her that came to mind. April Kelly recalling Garry Marshall just cut together footage of both of them, sent it to ABC, and said, "You know, these people should be in a show together."
Marshall himself gives credit to then ABC comedy programming exec 'genius' and future legendary TV producer in her own right, Marcy Carsey (of Cosby Show, Roseanne, Third Rock from the Sun, That 70s Show, fame), for coming up with this innovative (and quick) method of pitching it, as he was by his own admission half way out the door and on his way to the Bahamas. It was she, he said, who somehow spliced together the footage of Pam in her plain clothes portion of Sister Terri, with Robin Williams as Mork from Happy Days and sent it off to Michael Eisner and the Network suits. And they gave it to them with nothing more than the accompanying premise of: "What happens when this wacky spaceman meets this down-to-Earth girl?" And that's how they sold the show. They never wrote a formal pilot. Pam and Robin met for the first time when they went to Boulder to shoot the main titles, before the series began. And as you know, it created a national sensation." says Levant. [27]
Pam Dawber was never told about this development by the Network (a recurring theme through the show's life and end) and only found out when her agent saw the announcement in Variety of ABC's upcoming fall line up with Mork & Mindy starring Robin Williams and Pam Dawber Still based in New York at the time, staying at her cabin in the Catskills when she heard, she hit the roof, both over how it had happened and also because she thought the premise sounded ludicrous and not something she was keen to be involved in, plus, she'd never heard of 'this Robin Williams guy' but recalled that her agent was super happy as it gave them great bargaining power. To discuss her casting (and smooth the waters with her), Garry Marshall flew to New York to meet with her, explain the rush, and the premise, a lot of which was summed up by giving her the video of Williams in action on the Happy Days set. She recalls going straight to her agents office to watch it on the machine there, to see what the fuss was all about, and sat there laughing through the entire thing, being able to see 'how adorable' and amazing he was, and by the end was not only completely on board, but beginning to realize she had really fallen on her feet with a chance to work with this new guy, telling her agent to 'Sign me up!'[28]
Writer David Misch recollects of Pam Dawber's natural charisma, "We thought, if we give [Mindy] an actual character with neuroses and things like that, that would be more fun for Robin to play off. But they [the Network] didn't think so. Anyway, Pam Dawber was so attractive a human being, just as a person, and was so clearly delighted by Robin in every way, that she was just a winning character. And their chemistry was fantastic, even though no one took our advice on how to change her." [27]
Dawber, by her own admission had no real background in comedy like almost every single person around her, something she shared in common with Mary Tyler Moore when she was drafted to the Dick Van Dyke Show. "I'm not a comedian. I'm a reactor to all the zany people who revolve around me." I'm a middle of the road character, like Mary Tyler Moore or Bob Newhart." Somewhat ironically given Mork's job she stated, "On Mork & Mindy I was the observer. You saw it through my eyes and saw what he did to my life."[12]
She admitted to being hugely nervous going into the show, but was comforted by the fact that she and Robin Williams were essentially in the same boat, starting out together, and as nervous as each other. "Before I go on, I can't even remember what line is going to come out of my mouth, and I say "Oh why am I in this business?" On the first show we had to hold coffee cups and I saw that Robin's cup was rattling as bad as mine. I felt better to see that he was as out of control as I was." [29]
"Most comedians are self-obsessed," says Dawber, "But Robin is the most giving, considerate, concerned person." [30]
Being thrown into the deep end with Robin, she picked up comedic reactions fast, impressively so many of the crew noted, especially as she had no improv background, yet was working across from probably the greatest improvisational and ad-libbing comic since (also ironically) Jonathan Winters. Pam recalled an early episode (Mork In Love) where they had worked through the scene in rehearsals with the same punchline each time, only for on the night of the taping, while she was delivering the line it's like 'a father's love for his daughter', and he came back with 'I know that, I read Lolita', which completely threw her, making her laugh, and it was clear the audience knew she hadn't been prepared for it. So expecting the unexpected came with the territory, and with an energized Robin Williams given virtual carte blanche, it was the steepest of learning curves. Something Garry Marshall said they all knew she'd have to deal with, however, what they weren't prepared for was how rapidly she managed it, her ability to handle him astonishing them.
But keeping Robin on track was only one side, establishing her own comic credentials was the flip, and perhaps more nerve wracking, side. With April Kelly, one of the writers, recalling how, even when they came up with funny material for Dawber, she was initially reluctant to commit to it, says. "She wasn't naturally funny to begin with." says Kelly "She was a pretty girl. She was a model. She'd done a TV commercial—I think she was a waitress on roller skates for 7-UP or Pepsi, or something. So sometimes, you had to persuade her that looking foolish doesn't make people hate you. We had a show where Mork walks in and Mindy has like a mudpack on her face and her hair in a towel (Season 2's The Mork Syndrome). So, Mork walks in and goes, "Nyaaah!" And she was very reluctant to do that. She thought she'd be in a ratty old bathrobe with her hair in a towel and a mudpack on her face. And that's going to make her look unattractive. And when you make your living by being pretty instead of being funny, then it's risky to look like that.
I said to Pam, "You don't have to worry about how you look. If they love you, they will be on your side." Like I say, comedy ain't pretty. So it was a bit of a transition, but she got where she could hold her own in the scenes with him. She was always going to be the straight man, no matter what. But, she did very well. I'm very impressed with how she picked it up so quickly."
Once she saw that nobody was saying, "Wow, you didn't look very attractive there," she would throw herself into it. That's one thing: If you hold back, if you don't really go balls-to-the-wall, then people aren't sure what you mean."
"There was an episode where Mindy had, I think, appendicitis (tonsillitis) (Mork's Health Hints). I don't know—anyway, she's in the hospital. Her last name is very similar to someone who's about to go into brain surgery, okay? You see what's going to happen. And so Mork figures it out before the hospital does. Mindy's been prepped for surgery, so she's shot full of drugs. Cue Pam Dawber being able to stagger and slur and do drunk comedy."
"And there was one [episode], where she had just polished her nails. So she's just flapping her hands, to dry her nails, and Mork walks in. He thinks she's trying to fly, trying to lift off. So he runs up behind her, picks her up by her waist and said, "Fly, Mindy, be free." And she laughs, and he puts her down, and she says, "No, I'm trying to dry my nails." He picks up a towel and tries to help her dry her nails, and basically just ruins the manicure. But she played it completely real—and that's what worked. That's what set him up, and made you like her."
"He was a comedy giant, and nobody else is going to be able to match that. I think the closest you came was Jonathan Winters, and that's because Robin idolized him. But being a straight man—look at Richie Cunningham on Happy Days. He played that [role], but everyone loved him, he was the central point, everything else revolves around him. You look at that, and say, "That's a thankless role." But he did it, he committed to it, and they even wrote a show one time where Richie was afraid he was a dull guy. And he was wonderful. And everybody loved him."
"I thought she was very strong, she got to be a good female character and independent—and [she] just happened to have an alien living in her house.[27]
Carroll Pratt, one of the men who pioneered the use of laugh tracks on shows and worked on the Paramount lot on a lot of ABC shows, backs up Pam Dawber's own growing comic ability in recalling how Mork & Mindy was one of his favorite shows to work on, primarily as he didn't ever have to do much, "He [Robin Williams] with Pam Dawber, were on scene and off scene, breaking up the audience in themselves, all the time." [31]
Working across from Robin for four years brought with it other things to handle beyond his adlibs. Corpsing, being a regular part of it, his natural comic ability having an effect, Pam Dawber recalling an early scene in Mork Moves In, where Mork is doing nothing more than, soaking wet from ginger ale, clinging to the Moose Head from the attic while she tries to deliver an answer to the ultimatum from Fred, and being unable to get through the line, cracking up over and over again, simply because of the look on William's face. Other examples of her corpsing pop up in the opening credit scenes in Season 3 and 4, with a few near misses cropping up in the show itself.
Howard Storm referred to Williams as being 'always primed', the best known incident being that of the hot tub during the filming of the Necroton episodes, but it being something his co-star had to (and knew how to) deal with. Remembering a scene while when Robin was rehearsing with Pam, both of them on the couch, Storm called to Robin to leave her, get up and make a cross, as was called for in the script, Williams replying "I can't, Papa" and when asked why Robin reply's "Lumpy's acting up." Storm recalls that Robin stood up and "he has an erection that pushes the front of his khaki pants way out - and I don't think he's wearing underwear. Without saying a word, Pam walks into the kitchen, grabs a saucepan, walks back to the couch and hangs it on his dick." [24]
Another incident Storm recollects is one that is well known anecdotally to fans, but Storm's recalled outcome is different, that being the incident involving the scene where "Pam opens the armoire and Robin is inside taking a shower. He's supposed to have a towel wrapped around him, but when she opens the door, he's facing her, totally naked." Unlike the story where Pam supposedly "falls on the floor" laughing, Storm recalls Dawber just went "WOW!!!" and slammed the armoire shut, "totally unfazed". [24]
Nor was it the only time she was flashed, as the blooper reel doing the rounds since 1979, and interviews with Garry Marshall and Robin Williams himself made clear.[4] Robin William's flashing, groping, grabbing, humping and general manhandling of his co-star, hit the headlines after the publication of David Itzhoff's biography "Robin", when Pam Dawber spoke about it, with many media outlets trying to make a click bait issue of it in their headlines, until a closer read of the articles revealed the context in which she spoke about it, entirely in the humorous way in which it was meant and in which she took it, as Garry Marshall put it Robin "lived to make Pam Dawber laugh".
Pam Dawber recalled that, to her mind, part of the reason that Mindy wasn't initially developed as the producers and writers suggested to the network in the early years of the show was that her relationship with ABC wasn't always the best, "I didn't play ball with ABC at the time. I wouldn't do [guest spots on] Battle of the Network Stars or The Love Boat. So they were pretty pissed off at me and didn't help me out." as a result it was only from the third season on, that Mindy was finally allowed to get a job, and have the repercussions of her life feed into the show. [32]
Pam Dawber & Robin William's relationship was often remarked as being a close and loving friendship, with on set visiting reporters often commenting on the supportive, playful relationship between the two[30][33] [34] . However, Howard Storm remembers one occasion filming the episode Skyflakes Keep Falling on My Head, when Robin Williams got carried away. "Robin ad-libs to Pam, 'Don't worry. Someday you'll have a show of your own and you won't need me.' (this appears on the infamous bloopers from the first year, as obviously it doesn't fit with the scene) He recalls that Pam played through the scene, but after the scene they walked off, and backstage Pam "tells him, 'If you ever do anything like that again to me, I will just slap you in the face,' or whatever. She was just furious at him." "She really snaps Robin's head off and he's shocked by how assertive she can be" Williams immediately "melted," says Storm. "Cause he loved her. And she loved him. They were just such good friends. And had such respect for each other.".[27][24]
Robin's Drug Use & John Belushi's Death
[
edit
|
edit source
]
An indication of that continuing close friendship came towards the end of the show, came on the morning of the 5th of March 1982, a Friday and the day the episode was shot before a live audience. She recalled how that morning, as usual, Robin had come to work a little late and a little bleary, and told her about his unusual night at the famed Chateau Marmont, the night before. When he had gone to visit Robert de Niro, who it transpired was, along with Harry Dean Stanton, entertaining a couple of ladies in his room. As a result he went to visit John Belushi, who had a bungalow there, and who was at that time doing a lot of very heavy drugs. But left quickly after he found him heavily out of it, and with a woman he described as scary, "He said, 'Wow, I was with Belushi last night, and boy,'" Dawber recalled. "First of all, Robin never had judgment, because he was doing a lot of the same stuff, but certainly not what Belushi was doing." He recounted for her his missed connection with De Niro, his uneasy visit to the bungalow, and how magnificently Belushi had played his guitar, as stoned as he was. "'He could hardly stand up, and yet he could play the guitar to perfection,' — that's what he was saying," Dawber said. "There was some girl there and John was just so stoned. That's what Robin told me about that, and I went, 'Wow. Okay.'"
Just as the cast and crew were preparing to break for lunch, they received the news that had been rippling across Hollywood that day. And she recalled how the producers approached her privately to tell her that: Belushi had died in his bungalow at the Chateau. "I said, 'Oh, God, Robin was with him last night.' And they said they knew. I don't know how they knew." The producers also knew that someone had to tell Robin, but fearing that the information would devastate him, they felt that it was best delivered by a trusted friend like Dawber. "They said, 'Will you tell Robin?'" she recalled.
Dawber waited for a discreet moment when she and Robin were walking back from the Paramount commissary after lunch: "I said, 'I've got something really terrible to tell you, Robin. He went, 'What? What?' And I said that John Belushi was found dead last night." Robin found it incomprehensible to hear this about someone he had seen only a few hours earlier. "He went, 'What? I was with him last night!' to which she said 'I know, Robin' and he said 'I was with him last night!', and she reiterated 'I know'" Dawber said. By that stage, she recalled, they had just about reached their respective trailers outside Stage 27, and she could see that Robin was in pain but wanted to make sure he did not ignore the larger lesson in all of this. "I said, 'Robin, if that ever happens to you, I will find you and kill you first.'"
They could hear the growing clamor of the studio audience being let in for the taping of that night's show. She started looking for her script when she saw Robin standing with his hands cupped over his crotch, which for him was a sign of pensive contemplation. He was looking down at the ground, still processing the ultimatum that she had just given him. In a soft, solemn voice, he answered, "That's never going to happen to me, Dawbs." [19][35]
Pam Dawber had her issues with one of the shows more famous guest stars during S2's infamous 'jiggle 2 parter' Mork vs. The Necrotons, Raquel Welch was any director's nightmare," according to Storm. "At one point, Robin was trying to talk her around to their idea about it not being good for her to come in first, as having the other girls playing her Lieutenants come in after her, would take focus away from her (the opposite of what Welch was actually going for). And Robin was trying to explain it to her. Pam was standing there, and Pam said, "You know, Raquel, he's right." And Raquel said, "Honey, please." And she stepped in front of Pam, blocking her, then went on to talk to Robin."
"Pam made a fist and made believe she was hitting [Raquel Welch] in the back of the head, and walked away," says Storm. After that, "Pam would do that every time she came on stage. She'd sneak up behind Raquel, and make believe she was punching her in the head." [25]
Dawber herself later distinguished between being an assertive actress and a queen bee star. "I remember Raquel Welch coming into Mork & Mindy," she says, citing an example of the latter. "You wouldn't believe the things that were done for her. These women are terrors."[2]
↑ Pam Dawber Biography (1954-). Filmreference.com (October 18, 1954). Retrieved on May 16, 2013.
↑ 2.0 2.1 Bernstein, Fred (March 1987). Dawber hits the Mark! People. . .
↑

Martine Branford (Photoplay, August 1980) "Mindy - Pam's Heartbreak" - Accessed 04 April 2021.

↑

John Kirshan (Dynamite, January 1979) "Meet Mork's Mindy - Pam Dawber" - Accessed 04 April 2021.

↑ Pam Dawber on Mork & Mindy. - The Happy Days of Garry Marshall, 2016
↑ 11.0 11.1 11.2 Pam Dawber Enters a New Stage with The Water Children at the Matrix - Drama-Logue, April 30, 1998.
↑ Love? It's Music to Harmon's Ears. - Ann Conway, 1990
↑ Robin Williams' 'Mork & Mindy' Co-Star Talks His Alleged Sexual Behavior on Set, Says She Never 'Took Offense'.
↑

Shel Kagan (Circus Weekly - January 30th, 1979) - Mindy & Mork: A Space Age Romance - Pam Dawber's an Anchor for high flying Robin Williams. - Access date - April 4, 2021

↑ 30.0 30.1

'Mork and Mindy' star Robin Williams lights up screen - The Odessa American (Texas) - November 13, 1978 (Access date - April 6, 2021)

↑

'Full Tilt Bozo' (Rolling Stone) - November, 1979 (Access date - Dec, 2020)

↑

Robin J. Pietschman - 'Robin Williams' Comedy's Great WASP hope is a bratty imp of a sex symbol known to millions as Mork from Ork (Playgirl) - March, 1979 (Access date - April 8, 2021)

↑ The Story of Robin Williams's Last Night With John Belushi. - Dave Itzkoff (2018)
Community content is available under
CC-BY-SA
unless otherwise noted.