"Mork & Mindy": Season Four

Season Information
Episodes
22 aired
Network/Air Dates
ABC-TV, October 8, 1981 - May 27, 1982
Season Guide
Previous
Season 3
Next
None - End of series
Link above to 9 Promos shot by Robin Williams (and Ralph James) in 1981 for the opening episodes of Season 4 including Limited Engagement, The Wedding, The Honeymoon and Three the Hard Way.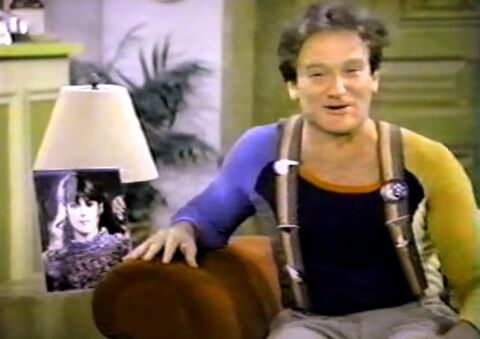 .

Season Four of Mork and Mindy began airing on October 8, 1981 on ABC. The fourth and final season concluded after 22 episodes on May 27, 1982.
Picking up on their finally having declared their love for one another at Season 3's end, Mork proceeds to propose to Mindy, and after overcoming both personal and external obstacles, Mork and Mindy get married, with Mork taking Mindy's surname and becoming a full fledged McConnell. They honeymoon on Ork, evidently highly successfully, as after a month of marriage in a huge twist Mork falls pregnant and lays an egg from his new belly-button which rapidly grows and hatches their full-grown son, Mearth. Stories revolved around Mork and Mindy's struggles with marriage and parenthood. Fred, Cora, Mr. Bickley and Exidor each made regular appearances throughout the season.
Remo, Jeannie, Nelson, Lola, Stephanie and Glenda Faye were all dropped, though Glenda Faye made one guest-appearance in "Long Before We Met." Resident director Howard Storm also left the series and was replaced by Bob Claver. "I was getting burned out," Storm recalled.[1] After a while my ideas started to run out. I felt like I was starting to imitate myself on the show."
The addition of Jonathan Winters as Mearth was meant to help spark Robin Williams creativity, but while it succeeded, there was a flip side, in part because Williams and Winters frequently devolved into improvisations that were too X-rated for television.[1] It could take up to 2 hours before they could actually begin filming, often exhausting the studio audience with laughter before the filming of the episode could properly start. "That was chaos!" recalled Pam Dawber.[2] "Robin could go off, do some brilliant improvisational thing, and come back. Jonathan would go off and you'd never see him again!" Despite the craziness, Dawber recognized that she was in the presence of two comedic geniuses and concocted a plan to have a documentary made about them. "Everybody agreed to do it," she said. "Paramount agreed to do it, we all wrote it off as yes. And wouldn't you know it, Robin's damn management said no. In retrospect, what a wonderful thing that would have been to have. The two of those guys were so nuts, so wonderfully nuts together and so funny."[1]
The first three or four episodes surrounding Mork & Mindy's romance, engagement, marriage and decidedly unexpected pregnancy worked extremely well and gave the show a fresh energy and a ratings bump, but once the show settled down to Mork & Mindy raising Mearth, the ratings began to sag, the show unbalanced by the presence of Winters (and the loss of the supporting cast) and the producers tried to go broader. The 3-part season finale introduced villainous Kalnik (Joe Regalbuto, Murphy Brown), an alien hellbent on destroying Mork, who used a pair of time-travel slippers to transport himself and Mindy into the past, leaving Mearth in the care of Fred. The series concluded with Mork & Mindy in limbo as a setup for season 5, in which Mork and Mindy would have been traveling through time, meeting various historical figures.[3] Garry Marshall also had plans for them to have a second child, this time with Mindy falling pregnant naturally, to allow her have what she missed out on the first time around, and Mork experience what was involved in impending human fatherhood.
Realizing they were going to cancel the show after this cliffhanger was shot, ABC held back one episode with Fred and Cora which aired as the finale instead, in an attempt to give the show some closure. Unfortunately, no one bothered to inform the cast. "I found out the show was canceled by reading it in Variety," Williams commented.[4] "In Hollywood that's like reading your own obituary: 'You're dead, good luck!'"
.
Season 4 episodes
No. in series
No. in
season
Title
Directed by
Written by
Original air date
Production code
74
1
"Limited Engagement"
Bob Claver
Brian Levant
October 8, 1981
401 (4x1)
Their love declared, Mork decides to take the next step, and after decorating the apartment with flowers, gets down on bended knee and proposes to Mindy. In love with him and wanting to say yes, she is reminded by her family of all she will be giving up, and how difficult it will be marrying an alien, especially one who ages backwards. Torn between her head and her heart, but feeling she has to remain the sensible one, Mindy tells him that she cannot marry him. But a determined and ardent Mork asks for 24 hours to change her mind.


 Orkan Fact:  Marriage is outlawed on Ork ever since Ork's Dark Ages.

75
2
"The Wedding"
Bob Claver
Alan Eisenstock & Larry Mintz
October 15, 1981
402 (4x2)
Freshly engaged, both Mindy and Mork have to face down the respective obstacles to their getting married. Mindy her father, and Mork, Orson. When Orson continues to forbid Mork to marry Mindy, on pain of severe life altering punishment, Mork lies to her that he changed Orsons' mind, risking everything to marry her.


Guest starring: Shelley Fabares as Cathy McConnell

76
3
"The Honeymoon"
Bob Claver
Dale McRaven & Bruce Johnson
October 22, 1981
403 (4x3)
Mork & Mindy embark on their honeymoon to Ork, but an initially excited Mindy finds herself an open object of curiosity, and is even abducted and entered into a pet show. While she begins to understand some of how disorientating its been for Mork living on a world where things are so different, Mork's efforts to show that he can can step up to mark, taking control and organizing things as her husband keep going wrong. Getting more and more agitated it results in his running away when it comes time for their wedding night. Tracking him down, he confesses to Mindy that he is scared of being married and letting her down.


Orkan Fact: Several aliens, very different in appearance from the human-looking Orkans, are present when Mork & Mindy arrive on Ork. Whether the aliens are themselves visitors from other planets or are representative of other races native to Ork is unclear.

Note: Mork has been sending roses to Ork for three years in order to show the Orkans some of Earth's beauties.

77
4
"Three the Hard Way"
Bob Claver
Richard Rosenstock & Roy Teicher
October 29, 1981
404 (4x4)
The loved up newlyweds are celebrating their first month of marriage, but Mork is feeling unwell. Despite even Exidor finding it nonsense, Mork comes to believe he's pregnant, and in Exidor's presence lays an egg via his navel. Trying to find a way to tell Mindy, he finds her unreceptive to the idea of starting a family yet, wanting this time to be for them. Unable to find parents that would be better for their child than them, Mork finally breaks the news to a stupefied Mindy, who barely has time to process that she got her husband pregnant, before the egg starts to grow...and keeps growing to an enormous size.


 Guest Starring: Tom Poston as Mr. Bickley, Jonathan Winters as Mearth.

78
5
"Mama Mork, Papa Mindy"
Frank Buxton
Wendy Kout & George Zateslo
November 5, 1981
405 (4x5)
An already unnerved and disorientated Mindy is further shaken when their giant baby, Mearth, barely a day old, starts to walk and talk, but calls Mork 'Mommy' and her 'Shoe'. Finding it hard to connect with him, and unable to confide in a joyful Mork, Mindy starts avoiding Mearth taking more and more shifts at work until new grandpa Fred points out to his son-in-law what is going on. Determined to help her, Mork concocts an opportunity for Mindy to bond with her son.


Note: Jonathan Winters's first episode as a regular.

79
6
"My Dad Can't Beat Up Anybody"
Frank Buxton
Dale McRaven & Bruce Johnson
November 12, 1981
406 (4x6)
Despite Mindy's reassurance Mork becomes increasingly insecure when he thinks he doesn't have Mearth's respect. When Mindy has to go away for a couple of days on a trip, she returns to Mork's tale of the disaster that occurred when Mearth found his spacesuit in the armoire, and Mork's decision to play superhero to try and garner his son's respect.
80
7
"Long Before We Met"
Frank Buxton
Deborah Raznick & John B. Collins
November 19, 1981
407 (4x7)
Mork accompanies Mindy to her High School reunion and, prompted by tales from others of how heated a couple they were once were, gets intensely jealous when Mindy reconnects with old boyfriend, Steve Sanders. Despite her assurances that he is the one she loves, not Steve, Mork remains obsessed with the idea of them, and whether Mindy would have loved him, even with Steve around...and embarks on a journey back in time to find out.


Guest starring: Paul Reubens as Dickie Nimitz. Reubens wears a blue bowtie and suit similar to what his "Pee Wee Herman" costume would become.

81
8
"Rich Mork, Poor Mork"
Frank Buxton
Richard Rosenstock & Roy Teicher
November 26, 1981
408 (4x8)
Misconstruing Cora's advice about how a gift now and then can do wonders for a child, Mork goes way overboard. After Mindy, her salary already stretched to the limit to support them all, makes him send back the presents he bought for Mearth, Mork turns to Exidor for money advice and to Mindy's fury unilaterally invests all their savings in Exidor's boutique.
82
9
"Alienation"
Don Barnhart
Wendy Kout & George Zateslo
December 3, 1981
409 (4x9)
With Mearth getting more and more upset by the differences between himself and other children Mork & Mindy finally decide to reveal his Orkan heritage to him. Wanting to go away to Ork immediately so he can be with kids like him, he runs away to find a flight there, and while at the airport he's lured into joining a heavily organized cult called the Utopians leaving his parents with no option but to try and infiltrate their compound.


Special Guest Stars: Future Night Court TV series cast members Richard Moll & John Larroquette.

83
10
"P.S. 2001"
Bob Claver
Cindy Begel & Lesa Kite
December 17, 1981
410 (4x10)
Mearth's insistence that he wants to go to school is causing problems at home as it's just not possible on Earth. Things take a twist however, when Mindy discovers that Mork has been hiding the fact that Orson has actually made arrangements for him to attend a prep school on Ork, with Mork's old school teacher.
84
11
"Pajama Game II"
Bob Claver
Cindy Begel & Lesa Kite
January 7, 1982
411 (4x11)
Mearth is allowed to have some of his Orkan friends over and the flighty Zelka ends up spending the night. With Mindy in particular finding it hard to reconcile their physical appearances with their mental age, and finding an adult magazine in Mearth's coat, Mork & Mindy end up explaining the facts of life to Mearth when it looks like he and Zelka slept in the same bed overnight.
85
12
"Present Tense"
Bob Claver
Winifred Hervey
January 14, 1982
412 (4x12)
With Mearth away in Florida with Fred, Mork & Mindy have their first real time alone together since they got married. Trying too hard to reconnect purely as a couple, they end up having a huge fight. Something which results in Mork taking Mindy back to their past to help rediscover their present.
86
13
"Metamorphosis, the TV Show"
Bob Claver
Bob Perlow & Ron Gene Braunstein
January 21, 1982
413 (4x13)
Mr. Sternhagen, Mindy's boss is fired, and KTNS's young new boss is planning a major shake up, announcing he will outline the new line up and cuts at a party where he also wants to meet all the employees' other halves. Meanwhile, while playing with an old train set of Freds, a short circuit switches Mork's mind with Mearth's.
87
14
"Drive, She Said"
Bob Claver
Lesa Kite & Cindy Begel
February 4, 1982
414 (4x14)
Mindy tired of coming from work and having to go out on errands, convinces Mork he has to get his license. Getting old friend TNT is his driving instructor, Mork ends up unnerved by his tales of how bad the roads are, and ends up having a nightmare where the Devil is his examiner. A dream that looks like it may actually be a portent.
88
15
"I Don't Remember Mama"
Bob Claver
John B. Collins & Deborah Raznick
February 11, 1982
415 (4x15)
When Mork refuses to put aside his family in favor of his job because his reports have become too narrow because of them, Orson erases all of Mork's memories of them and Earth. Despite efforts to jog his recall by the extended family, and Exidor, a confused and emotional Mindy is left alone with a husband who no longer remembers her.
89
16
"Mork, Mindy, and Mearth Meet M.I.L.T."
Bob Claver
Wendy Kout & George Zateslo
February 18, 1982
416 (4x15)
With Mindy receiving her first nomination for her journalistic work and looking forward to the awards ceremony, Mork and Mearth use Orkan components to assemble a home security system named M.I.L.T for Mearth's class science project. MILT is so sophisticated and expansive however, that it decides it knows better than they how they should be living their lives, and takes them hostages.


Special Guest Stars: John Houseman as the voice of MILT, and cameo appearance by William Shatner.

90
17
"Midas Mork"
Bob Claver
Wendy Kout & George Zateslo
April 15, 1982
417 (4x17)
After Mindy reads a bedtime story to Mearth about how Rumplestiltskin spun straw into gold, she finds their world turned upside down after Mork successfully turns polyester into gold.
91
18
"Cheerleaders in Chains"
Bob Claver
"Teleplay by:" Winifred Hervey
"Story by:" Cindy Begel & Lisa Kite
April 22, 1982
418 (4x18)
Mindy gets jailed when refusing to compromise on her principles she won't reveal a source for one of her stories. Unable to convince her to bend to come home to him and Mearth, Mork tries to go through political channels to get her out, then tries to spring her.




Guest starring: Barbara Billingsley as Louise Bailey

92
19
"Gotta Run, Part 1"
Don Barnhart
Cindy Begel & Lesa Kite
May 6, 1982
419 (4x19)
Mork & Mindy are overjoyed when they meet Kalnik, an alien from Neptune who has also married an Earthling named Tracy. But things go awry when they become suspicious of Kalnik's true intentions.


Guest starring: Joe Regalbuto and Ilene Graff

93
20
"Gotta Run, Part 2"
Bob Claver
Richard Gurman
May 13, 1982
420 (4x20)
Their apartment in ruins and on the run, Mork, Mindy and Mearth have to deal not only with Kalnik but the Government agency who think that Mork is the evil alien plotting to take over the world. Leaving them with a stark choice.


Guest starring: Joe Regalbuto

94
21
"Gotta Run, Part 3"
Bob Claver
Alan Eisenstock & Larry Mintz
May 20, 1982
421 (4x21)
With Mork's secret exposed to the world, Mindy's fears about what would happen and how it might affect him start to come true. Trying to escape the spotlight brings him home, where Mindy finds him, along with a resurgent threat.


Guest starring: Joe Regalbuto

95
22
"The Mork Report"
Robin Williams
Winifred Hervey
May 27, 1982
422 (4x22)
Mork bucks hard for a promotion from Orson, presenting a prepared report on the 4 elements he believes makes his marriage with Mindy a truly happy and successful one: Honesty, Respect, Romance and Compatibility.


Note: This episode was filmed before "Gotta Run", but was aired last because of the show's cancellation and to give the series appropriate closure. Thus, Mork apparently defeats Kalnik for good and the demolished apartment is successfully repaired.
Community content is available under
CC-BY-SA
unless otherwise noted.