"Mork & Mindy": Season Two

Season Information
Episodes
26 aired
Network/Air Dates
ABC-TV, September 16, 1979 - May 1, 1980
Season Guide
Previous
Season 1
Next
Season 3
Reworked Theme/Opening Credits
[
]
A new opening sequence was introduced for the show featuring clips from Season 1 and 2. Perry Botkin's theme music has been spiced up with a slightly-disco arrangement, no doubt with the same idea of appealing to a younger audience that had pervaded the casting changes by the Network.
From the Second Episode on new exterior clips of Mork & Mindy walking along the Mall together to the new addition of the New York Deli are added.
Filming Footage
[
]
Footage of Pam Dawber, Robin Williams, Jay Thomas & Gina Hecht filming on the Pearl Street Mall, Boulder and outside the 'New York Deli' for the new Season 2 credit sequence.
Lost Season 2 Theme
[
]
In addition there was a secondary version of the theme. This version of the theme from Mork & Mindy was only used at a couple of times in season 2. It's slightly shorter, and the arrangement is a bit different. It has sadly been lost in syndication and doesn't appear in the Season 2 DVD set.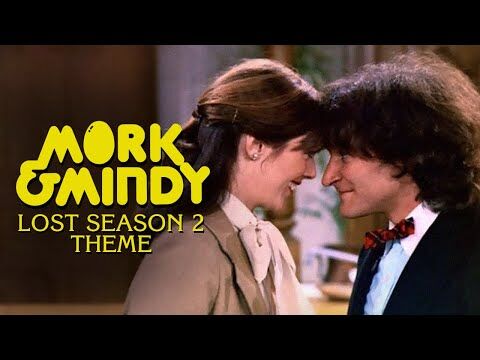 Season Two of Mork and Mindy began airing on September 16, 1979 on ABC. The second season concluded after 26 episodes on May 1, 1980.
Season Overview
[
]
The show's main focus in Season 2 was no longer solely on Mork's comedic attempts to adjust to the new world he lives in, but on the recurring theme of his trying to find a steady job to pay his own way. Though the show was ostensibly supposed to focus more on Mork & Mindy's relationship, in actuality their romantic entanglements also took a notable platonic downturn, after the multiple romantic encounters in Season 1. Next to no romantic moments occur after Episode 3 of this Season, with the actual main characters not sharing another real kiss till the 6th episode of Season 3. Something corroborated by Pam Dawber herself, just prior to returning to start the shooting of S3, commenting that anyone who thought there was a relationship between the two in the aftermath of S2 was fooling themselves. [1] This like many things, was something that was rectified in Season 3 after the damage the network had done during S2.
In S2, in their infinite 'wisdom', the network had decided to fix what was definitely not broken. Based on generic demographic studies, they felt the show skewed 'too old' with it's supporting cast for young people to enjoy (despite the fact a huge chunk of those watching religiously were college students), and to facilitate changes, decided to relocate the main 'hang out' place from the unique location of the music store to a rather more typical coffee/bar NY style Deli [2] and dump the characters of Fred, Cora, Eugene and Susan. It was explained that Fred went on tour as a conductor with an orchestra, taking Cora with him. Both eventually returned to the show, after a fan outcry that proved that ABC's demographic studies weren't worth the paper wasted on them. However, Eugene and Susan were simply never heard from again.
The new additions were by no means disliked, all played by wonderful actors, but should have been additions rather than replacements. New were the characters of Remo DaVinci and his sister Jeannie DaVinci, who run The New York Delicatessen. Mindy's super strait laced cousin, political candidate Nelson Flavor, becomes a regular, with Mork and Mindy lending a hand to his campaign. One entirely positive move was the upgrading of guest star, the now legendary Tom Poston to regular cast member, increasing Mr. Bickley's participation, though he was credited in more episodes than he appeared in. Exidor also continued in frequent appearances.
Even worse for the show itself however was ABC's decision to move the show from Thursday to Sunday nights, where it squared off against the popular CBS show Archie Bunker's Place, which made little logical sense demographics wise, as the audience for that was more mature (and they had just dumped the older contingent of the cast) and was unlikely to move to a fast paced sci-fi based sitcom, while Sunday nights were not enticing to a younger audience.
The network initially mandated that the episodes be family oriented. When the ratings unsurprisingly slid with the move and the change in popular cast members, the Network then went the opposite direction and tried to inject sex into the show with (the behind the scenes nightmare that was) the appearance by Raquel Welch and the bizarre Denver Bronco Cheerleaders episode. It didn't help boost ratings. The show returned to Thursday nights in January 1980, and Fred began returning for regular guest appearances.
Main Cast/Main Characters
[
]
Notable Season Guest Stars
[
]
Season 2 (1979-1980)
[
]
Special Guest Star: Robert Donner as Exidor
Season 2 episodes
No. in series
No. in
season
Title
Directed by
Written by
Original air date
Production code
26

---

27
1

---

2
"Mork in Wonderland, Part 1

---

"Mork in Wonderland, Part 2"
Howard Storm
Dale McRaven & Bruce Johnson
September 16, 1979
201 (2x1)

---

202 (2x2)
Having caught a cold Mindy gives Mork a cold capsule that shrinks his nasal membranes. without realizing that Orkans are almost entirely made of membrane. With no help on hand Mindy can only helplessly watch in growing horror as Mork gradually shrinks to nothing. Becoming microscopic Mork falls into an alternate universe and a planet called Mirth, where parallel versions of his friends exist, including a parallel Exidor called Exidon who ruthlessly controls the electrical power, and has outlawed humor, and the Rebel Leader fighting him, Mandy, who both romances him and seeks his help.


 Note: 1-hour episode; this is Tom Poston's first episode as a regular;

Filming for the shrinking effect was provided by Magicam (only used in Part 1)

28
3
"Stark Raving Mork"
Howard Storm
April Kelly
September 23, 1979
203 (2x3)
Hearting about the odds of couples staying together makes Mork fret about his and Mindy's future. On learning how fighting, then kissing and making up, can enliven a relationship from both Mr. Bickley & Remo & Jeanie DaVinci the owners of the New York Deli, Mork devises a plan to have an argument with Mindy. One that goes far too far, resulting in a hugely hurt Mindy throwing him out.




Note: This is the first appearance of Jeanie, Remo and The New York Deli

29
4
"Mork's Baby Blues"
Howard Storm
David Misch & April Kelly
September 30, 1979
204 (2x4)
After a big win over Mindy in Monopoly, Mork is misunderstood by gold-digger Kathy Cumberland to be rich, and she sets her sights on him, enticing him home with her, pretending to be alone and upset. His staying out with her all night, along with titbits of Kathy's seduction attempts, ignites Mindy's furious jealousy, and things get even worse when Kathy turns up again some time later, saying she's pregnant with his child, and insisting he marry her. .


Guest Starring: Dinah Manoff as Kathy Cumberland

30
5
"Dr. Morkenstein"
Harvey Medlinsky
Bruce Kalish & Philip John Taylor
October 7, 1979
205 (2x5)
Working the late night shift as a security guard in a science museum where a Science Exhibition is being held, Mork befriends a robot named Chuck, and using his powers, grants him sentience, and a zest for 'life. But Chuck's structural frailties means that the duration of his new life span can only be limited.


Special Guest Star: Roddy McDowall as the voice of Chuck the Robot

31
6
"Mork vs. Mindy"
Howard Storm
David Misch
October 14, 1979
206 (2x6)
Mork & Mindy are both hired as campaign workers by Mindy's cousin Nelson Flavor, who is running for Boulder City Councilman. When Mindy finds out that Nelson is paying Mork more than her for doing the same job, Nelson tells them he can't afford to pay them both the same, so they end up competing against each other for the same job.


Note: The first appearance of Jim Staahl as Mindy's cousin, Nelson Flavor

32
7
"Mork Gets Mindy-itis"
Howard Storm
Tom Tenowich
October 21, 1979
207 (2x7)
While Mindy continues to help with Nelson's election, she thanks Mork for trying to help her out expressing her affection for him, only for Mork to start laughing uncontrollably ((the Orkan equivalent to sneezing). Gradually ruling out new hairspray, soap or perfume, they slowly realize that Mork is developing an allergy to Mindy herself. Forced to move out and into Exidor's boss pad with his invisible girlfriend because the allergy is getting so bad, Mork gets advice from Jeanie on what do to cure allergies, including trying to build up a tolerance by injecting some of the allergen (Mindy) into himself.
33
8
"A Morkville Horror"
Howard Storm
Tom Tenowich & Ed Scharlach
October 28, 1979
208 (2x8)
Mindy and Mork discover her family home has an after life of its own, when she tries to put it on the market and encounter the ghosts of the house's builders, her ancestors, Deirdre and Lucinda Lafillette
34
9
"Mork's Health Hints"
Howard Storm
David Misch
November 4, 1979
209 (2x9)
Mindy goes to the hospital for a tonsillectomy. But due to a typographical error, Mindy is mistaken for another patient, scheduled for brain surgery, drugged up and lost in the system, with only a frantic Mork even aware she was ever there. Fortunately, her knight in shining suspenders is up to the job.
35
10
"Dial 'N' for Nelson"
Howard Storm
David Misch & April Kelly
November 11, 1979
210 (2x10)
When Nelson finally makes a stand against something, pornography and strip clubs, as part of his campaign he starts receives threatening phone calls from a woman. Frightened he goes to ground at Mindy's, dragging both her and Mork into the problem as the caller starts targeting their place, forcing, Mork & Mindy to investigate the sleazy Bare Facts strip club in town.


Note: This is the first, of many subsequent times, that Mindy's apartment is attacked/damaged

36

---

37
11

---

12
"Mork vs. The Necrotons, Part 1"

---

"Mork vs. The Necrotons, Part 2"
Howard Storm
Alan Eisenstock & Larry Mintz
November 18, 1979
211 (2x11)

---

212 (2x12)
Mork is captured by a Necroton warrior named Captain Nirvana and her lieutenants Kama and Sutra. While Orkans have a high tolerance for pain, their tolerance for pleasure is negligible and she and her lieutenants use feminine charms to try and get information about Earth out of Mork. However when he escapes, having noticed Mork's fondness for his 'pet' Mindy, she sends her lieutenants to capture Mindy in order to lure Mork back to try and rescue her.

 

Guest Starring: Raquel Welch as Captain Nirvana

 Note: One hour episode (2 parts) 

38
13
"Hold That Mork"
Howard Storm
Bruce Kalish & Philip John Taylor
November 25, 1979
213 (2x13)
Mork becomes a member of the Denver Broncos Cheerleaders, making him pro football's first male cheerleader. Nelson uses the idea of Mork being a cheerleader to further his campaign.

 

Note: Portions were filmed at Mile High Stadium on November 11, 1979 before a game between the Denver Broncos and the New England Patriots.

 Guest Starring: Linda Henning as Pam Stockhaus

39
14
"The Exidor Affair"
Howard Storm
Dale McRaven & Bruce Johnson
December 2, 1979
214 (2x14)
To Mindy's consternation Exidor invites himself and his new 'love' to dinner at her place, with her cooking. Full sure that this is yet another of Exidor's invisible delusions and miffed at Mork for agreeing, she leaves him to do the cooking, but is stunned when Exidor turns up with a pretty, and normal, meter maid named Ambrosia Malspar. When Exidor's invisible friend Pepe ruins the dinner date, a dejected Exidor ends up crashing on their couch howling at the moon. More exasperated then ever, Mindy takes it on herself to try and get Ambrosia to take Exidor back, only to discover the real problem isn't Exidor's invisible entourage but his inability to express his emotions for her, and propose, and Mork must step in to try and give his friend the courage to do both.

 

Guest starring: Georgia Engel as Ambrosia Malspar

40
15
"The Mork Syndrome"
Howard Storm
April Kelly & David Patrick O'Malley
December 9, 1979
215 (2x15)
Mork mistakes the Air Force as a travel club and joins up as Lt. Mork Fromork. Returning from his night on duty Mork relays to Mindy what he got up to on a secret mission for the Air Force the night before. Mindy gradually realizing that there has been a nuclear leak and the Air Force has been involved in both a cover up and irresponsible behavior regarding nuclear waste. In order to get proof she prevails upon Mork to go with her to infiltrate the base again, but when Mork discovers the extent of the irresponsibility of humans with Nuclear waste he'd rather get her off the planet.


Orkan Fact: Although Ork, like Earth, uses nuclear energy, the resultant "tell-tale nuclear waste" is easily disposed of via a spray called "Nuke-Away." Mork is incredulous that any planet would use nuclear energy without being able to dispose of such waste; the revelation that humans store nuclear waste in "cans" outright frightens him.

41
16
"Exidor's Wedding"
Howard Storm
Dale McRaven & Bruce Johnson
December 16, 1979
216 (2x16)
Exidor's bachelor party and Wedding to Ambrosia is approaching. And to make it an even happier day for him, Mork goes out and finds Exidor's long-lost mother Princess Lusitania. Only for her to turn around and try to keep her son from getting married, and chain herself to the post in Mindy's kitchen. Leaving Mork & Mindy to find a way to convince Princess Lusitania to change her mind, both to allow the wedding to go ahead, and get her out of their place.




Guest starring: Georgia Engel as Ambrosia Malspar

42
17
"A Mommy for Mindy"
Howard Storm
April Kelly
January 3, 1980
217 (2x17)
Mindy happily receives word from her father to set two extra spots at the table for dinner, and prepares a special dinner for her Father and Grandmother's return visit. However when Fred gets back it's not Cora he has brought with him, but Cathy, a younger woman from his orchestra, that he has just married. News that Mork cheerfully welcomes, but which Mindy finds difficult to deal with, and is not sure why.

 

Guest Starring: Conrad Janis as Fred McConnell, Shelley Fabares as Cathy McConnell, Melissa Francis as Little Mindy.

 Note: Jim Staahl's first episode as a cast regular.

Note: This is the first time we see Mindy's Bedroom

43
18
"The Night They Raided Mind-ski's"
Howard Storm
Ed Scharlach & Tom Tenowich
January 10, 1980
218 (2x18)
To help Nelson out in his campaign, Mork volunteers to go to a meeting of what they both think are an environmental group to recruit them to Nelsons cause. Speaking at cross purposes, Mork befriends them not realizing they are a racist hate group, nor seeing the damage of the racist jokes they tell. Mork shocks Mindy, who has Polish blood on her grandmothers side and is derided for it by the group, by continuing to mouth their derogatory jokes. until truly angry she tells him the truth of the damage they can lead to. Something he sees for himself when his new 'friends' turn on Mindy in a more vicious fashion.


Note: This is the first time Mork lashes out with his powers

44
19
"Mork Learns to See"
Howard Storm
Ed Scharlach & Tom Tenowich
January 17, 1980
219 (2x19)
A tired and homesick Mork is really missing Ork, and feeling sorry for himself. A sympathetic Mindy encourages him to try and focus on other people to not get too caught up in his own issues, and when Mr. Bickley's blind son Tom comes to visit, Mork learns from him to see the world differently.


Guest Starring: Tom Sullivan as Tom Bickley

45
20
"Mork's Vacation"
Jeff Chambers
Tom Tenowich & Ed Scharlach
January 24, 1980
220 (2x20)
Really run down and needing a vacation, Mork informs Mindy that he's gotten permission to go on vacation to the planets Murow and HMM-HMM-HMM. It comes as something as shock to her however when he informs her he will be leaving his body behind and mind swapping with aliens from those two planets, meaning she will not only have to look after his body, but deal with the aliens who come to inhabit him. In this case, a sentient Cat...and the hedonistic 12.


Note: Remo & Jeanie's Mother comes for a visit from the Bronx

46
21
"Jeanie Loves Mork"
Howard Storm
"Teleplay by:" Ed Scharlach & Tom Tenowich
"Story by:" Steve Kreinberg & Andy Guerdat
January 31, 1979
221 (2x21)
After pestering her and guilting her into it Mork gets Mindy to confess that she has secretly taken over a lonely hearts column. While going through the letters with him, she recognizes a letter that she is sure is from Jeanie and through the column starts to advise her on opening up to those around her. Unfortunately Mork too decides to try and help Jeanie feel less lonely and starts spending more time with her. As Jeanie continues to write letters to Mindy's column about possibly looking at a friend in a different way, Mindy is unaware that her continued advice is actively encouraging Jeanie towards romancing Mork, while Mork doesn't realize that Jeanie wants to be "more than friends".


Note: This is the only time we see Remo & Jeanie's place

47
22
"Little Orphan Morkie"
Howard Storm
Bruce Kalish & Philip John Taylor
February 7, 1980
222 (2x22)
Following the events of his visit to the Department of Immigrants with Sergei the previous year, Mork gets a letter from the Immigration Service informing him that he will be deported unless he either marries an American citizen or finds someone to adopt him. When Mork refuses to allow Mindy to marry him just to allow him to stay, they have to find someone crazy enough to adopt a full grown alien.
48
23
"Looney Tunes and Morkie Melodies"
Howard Storm
Tom Tenowich & Ed Scharlach
February 14, 1980
223 (2x23)
Nelson's demand that he gets equal airtime to his rivals in his Council Campaign results in him getting an hour on TV, but at 7:00 AM on a Saturday morning, when only kids would be up watching cartoons. With Nelson planning to make a stiff necked speech, Mork steps in to suggest that if Nelson can impact on the kids they could recommend him to their parents, and he, Mindy and their friends draft a variety show to utilize their talents to impress the kids.




Note: This is the only time that Pam Dawber, a Broadway standard singer, actually gets to sing on the show.

49
24
"Clerical Error"
Howard Storm
April Kelly
February 28, 1980
224 (2x24)
Mork encounters a Catholic priest, and impressed by the good he does, and how much respect he's held in, decides he wants to become a priest. Mindy warns him that this is his worst idea yet, having absolutely no concept of what is involved. Unable to wait to discuss it further, he dresses up in a black cassock and goes to the Church, where he is mistaken for a priest and begins advising church parishioners, including a suicidal man, giving him ideas of how best to end his life.
50
25
"Invasion of the Mork Snatchers"
Howard Storm
Tom Tenowich & Ed Scharlach
March 20, 1980
225 (2x25)
Because Orkans are highly susceptible to advertising, Earth broadcasts have always had the ads removed. After prolonged exposure to them on Earth however, Mork has started to be addicted, purchasing everything he can and act like a junkie when Mindy cuts his time with TV and magazines. Sneaking around late at night trying to get his fix eventually puts Mork into a fever dream and a world inside the TV, where you can get everything you desire, if you give yourself over to the philosophy of their leader, Mr. Persuasion.
51
26
"The Way Mork Were"
Howard Storm
April Kelly & David Misch
May 1, 1980
226 (2x26)
When marital problems plague Fred, he turns to Mork & Mindy for help.  

 Note: Clip show retrospective of previous episodes.
References
[
]
↑

Murphy, Mary - "Now It's Mindy's Turn" TV Guide, November 22-28 (1980)